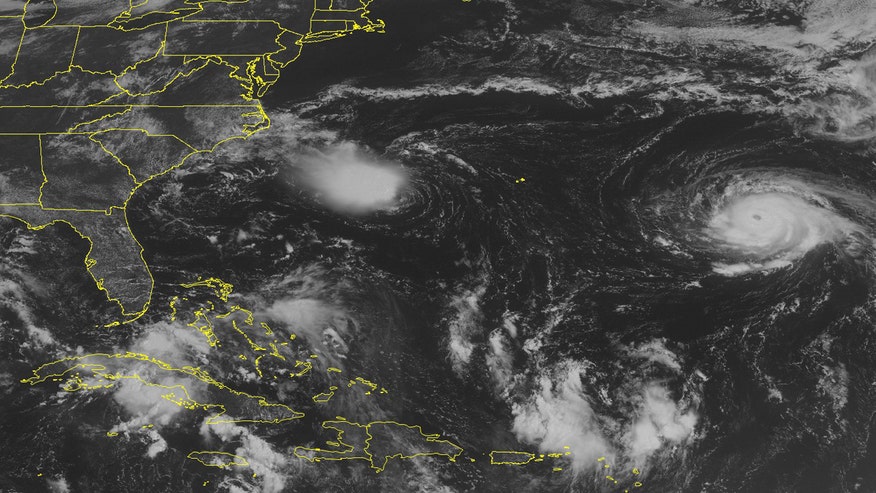 Tropical Storm Hermine formed in the Gulf of Mexico Wednesday afternoon, the National Hurricane Center announced, hours after officials issued a tropical storm warning and hurricane watch for parts of Florida's Gulf coast.
Hermine packed maximum sustained winds of 40 mph, forecasters said. It was located roughly 415 miles west-southwest of Tampa, Florida Wednesday afternoon and was moving north near 2 mph. It could approach hurricane strength as it nears Florida Thursday afternoon, the National Hurricane Center added.
The tropical storm warning, issued Wednesday morning, covers an area from Anclote River to the Walton County-Bay County line. Forecasters say they expect that system to turn to the northeast toward Florida.
Heavy rainfall was expected across much the state. Eric Blake of the National Hurricane Center said Wednesday morning that the system will likely dump around 5 inches of rain on areas of central and north Florida. Some areas could see up to 15 inches of rain.
A tropical storm watch was also in effect for the southern half of Georgia's 100-mile coast and a stretch of north Florida's Atlantic region. It means tropical storm conditions are possible within 48 hours from south of Darien, Georgia, to St. Augustine, Florida. The hurricane center says coastal Georgia could get 4 to 7 inches of rain, with up to 10 inches possible in some areas.
Dare County, N.C. Emergency Management Director Drew Pearson wrote in an email that the tropical depression nearby resulted in "no impacts" on coastal areas such as Cape Hatteras.
A hotel manager on Ocracoke Island said residents and tourists experienced less than an inch of rain. Byron Miller, manager of The Ocracoke Harbor Inn, said in a telephone interview that "it's just a normal day." Early forecasts had indicated the system could drench the state with up to 5 inches of rain before it curved out to sea.
National Weather Service meteorologist Tom Lonka said the storm in the Gulf was forecast to move across northern Florida later this week toward the Atlantic. But he said it was likely to stay south of North Carolina. Still, he cautioned its path was difficult to predict days in advance.
Thousands of miles away, residents of Hawaii's Big Island were bracing for what could be the first Pacific hurricane to make landfall in that state in decades.
Forecasters said Hurricane Madeline weakened to a Category 1 storm Tuesday night. The forecaster said any shift in the storm's forecast track could mean it would hit land.
Meteorologist Chevy Chevalier said the last hurricane to make landfall in Hawaii was Hurricane Iniki in 1992, which hit Kauai Island.
A second Pacific hurricane called Lester is still far from Hawaii.
The Associated Press contributed to this report.