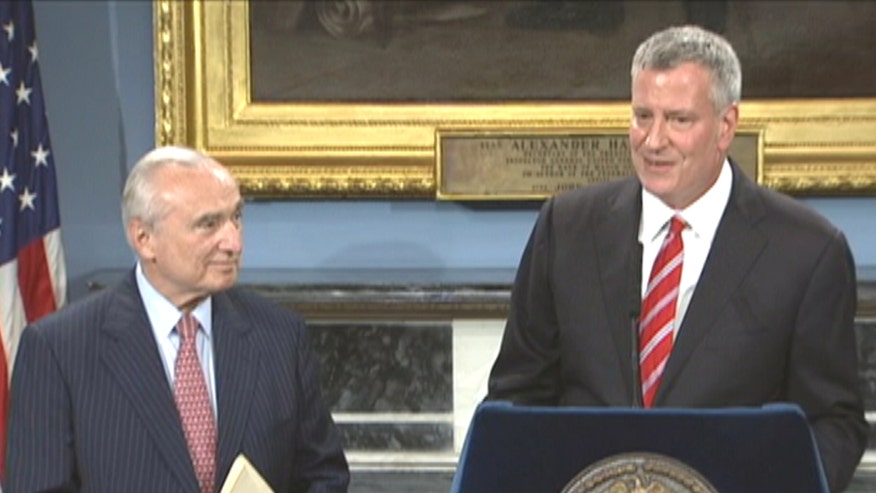 New York City Police Commissioner Bill Bratton will step down in September, Mayor Bill de Blasio announced during a Tuesday news conference.
Bratton will take a job in the private sector, but he did not name the company.
Ongoing turmoil between police and some members of the community "110 percent had nothing to do with this," de Blasio said on Tuesday.
The resignation announcement comes a day after 200 anti-police protesters gathered in City Hall Park to demand the NYPD be defunded and Bratton be fired.
NYPD Chief of Department James O'Neill is set to replace Bratton, 68, who has been in his current post since December 2013. Bratton also served as New York's top cop from 1994 to 1996 and was Chief of the LAPD from 2002 to 2009.
O'Neill has been Chief of Department since 2014.
"Jimmy is one of the best prepared incoming police commissioners this city has ever seen," de Blasio said, noting that O'Neill was the architect of the city's community policing program.
Bratton told de Blasio about his decision to step down in a July 8 conversation. Bratton described the theme of the conversation as "There's never a good time, but there's a right time."
Bratton said in an interview with The New York Times on July 25 that he would not stay in his post as commissioner if de Blasio were re-elected to another term as mayor; however, he gave no hint he would step down so soon.
During his first tenure as commissioner, under Mayor Rudolph Giuliani in the early 1990s, Bratton was credited with driving down crime with a widely copied, data-driven, crime-fighting strategy before his brash style made him an annoyance to the mayor, who forced him out.
Though de Blasio was elected as a sharp critic of a police strategy known as stop-and-frisk -- which raised concerns over racial profiling and privacy rights -- he picked Bratton as a sign that he would balance reform and further drive down crime.
"When you see a policeman, remember that he is your friend," Bratton said Tuesday. "That's the vision and that's the passion that I've had for 45 years."
"I would like to introduce you to the next police commissioner of the NYPD, James O'Neill."- @BilldeBlasio pic.twitter.com/yj3LYk5TLf

— NYPD NEWS (@NYPDnews) August 2, 2016
On Bratton's watch, the NYPD has drastically scaled back its "stop-and-frisk" strategy, but stepped up enforcement against so-called "quality of life" offenses. Critics said that approach still unfairly targeted minorities and came into play in the chokehold death of Eric Garner during his arrest for allegedly selling loose cigarettes on a Staten Island block.
Then Officers Wenjian Liu and Rafael Ramos were ambushed and shot dead by a gunman who had announced online he planned to kill police in retaliation for Garner's death. In an extraordinary display of scorn, officers turned their back on the mayor at a hospital on the night of the December 2012 killings and again at the officers' funerals.
Bratton found himself in the middle, calling the officers' gesture inappropriate but at the same time noting that it reflected officers' feelings about "many issues."
The tensions between the mayor and police eased, but officers have been under scrutiny this summer as concern about police-minority relations has welled anew in New York City and elsewhere.
On Monday, Bronx state Assemblyman Michael Blake, who is black, filed an excessive-force complaint against the NYPD, saying an officer handled him roughly as Blake tried to defuse an argument between officers and residents. The department said that the officer perceived a possible threat to a sergeant when Blake placed a hand on his shoulder and that the officer had apologized.
Bratton, however, on Monday refused to apologize, telling reporters, "There will be no apology forthcoming from me."
The Associated Press contributed to this report.