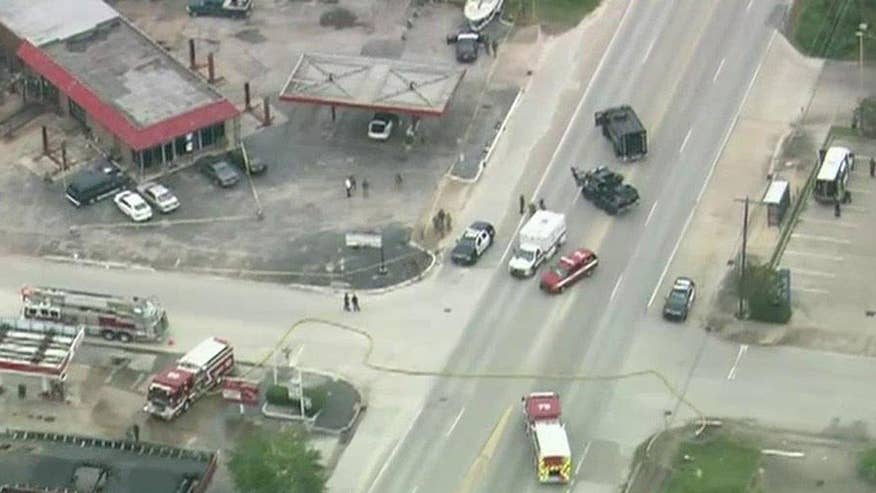 Gunfire in a west Houston neighborhood Sunday left two people dead and six wounded, including two police officers.
Cops were called to the scene at 10:15 a.m. after reports of two gunmen firing at random, police said.
Police said the suspects fired at a police helicopter that responded to the scene.
One of the suspects was killed, the other was wounded.
Houston Chief Martha Montalvo said police believe one suspect was shot by the other and the second was shot by a SWAT officer.
Four others were also shot, one fatally. That person was killed inside a car.
Police ordered residents to shelter in place for a time as they converged on the wild scene.
One officer was treated for a bullet wound to the hand and released, police said.
The second officer who was injured was saved by his bullet-proof vest.
The two gunmen were described as male, either white or Hispanic, according to police.
They were shooting randomly and using powerful AR-15 weapons, police said.
The police helicopter was struck by five bullets.
An errant shot hit a gas station across the street and caused a fire, police said.
One of the gumen was said to be carrying a rifle and wearing no shirt and dark shorts, the Houston Chronicle reported.
A witness told Harris County Precinct 5 deputy constables that they found someone with a gunshot wound to the neck at an automotive center nearby, Fox 26 reported.
Authorities had urged residents of the west side neighborhood to remain in their homes amid reports of a man firing a weapon. That warning was lifted later Sunday.
Stephen Dittoe, 55, lives in the house right behind the shooting scene, separated by a fence and tall shrubbery at the end of cul-de-sac. He told the Associated Press thatd when he first heard the noise Sunday he thought it was a transformer. His wife, Ha, 41, said it went on too long for that and described the series of staccato sounds.
She took their two children into the bathroom, told them to eat breakfast in there, and called 911. She said police came to the door about two hours later and asked if anyone in the house was being held captive, and if they could walk around the backyard.
At least two drivers told KHOU-TV their vehicles were shot at, and a police SUV could be seen with a shattered windshield and the back window broken out.
The Associated Press contributed to this report.
Click for more from Fox26Houston.com.