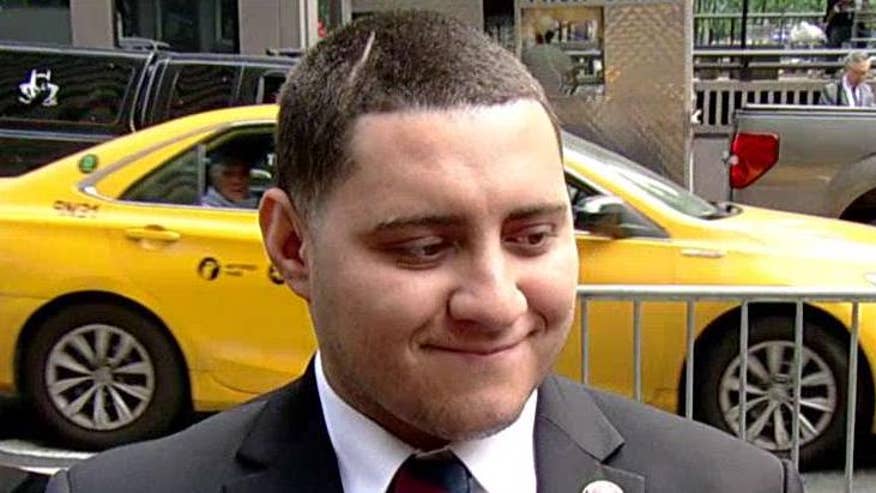 After driving an armored vehicle along dusty, IED-rigged roads of Iraq and Afghanistan, navigating luxury vehicles through the streets of New York and London is a breeze for a growing team of chauffeurs whose transition to civilian life is being eased by an international startup.
The company is Capstar, and while the main service it provides clients is transportation, it also offers aviation, security and other personal services. But what it offers its highly disciplined employees may be even more important: a chance to use their habits and skills to build a successful civilian career.
"Our mission at Capstar [is] to provide employment opportunities to veterans who struggle in their transition and, having struggled in my transition, it means a lot to be able to be in a position currently to provide opportunity to veterans," said U.S. Marine Corps veteran and Capstar chauffeur Bolivar Flores. "Capstar is not just a job and a driver position, it's a career opportunity because we're building an empire, essentially."
The company, founded in 2014 by decorated former British Army infantry officer Robert Bassett Cross, employs former servicemen and women from the United States and the United Kingdom, actively recruits those who suffered injuries during their military service.
An investment banker who now runs his own private equity firm, Cross admits what began as mostly a charitable venture has morphed into a lucrative business poised for major growth.
The London office has 35 employees, 30 vehicles and access to private jets to serve its 600 clients, according to Cross. While the operation across the pond has been a success, he sees a chance for major growth in the U.S.
"It was never going to be a business," Cross said. "It was, 'We give the guys the tools and the money and maybe have two cars at a time.'
"But when we began approaching businesses, saying, 'If we offer a chauffeur service, and the price is the same, the service is better and the cars are driven by service members, many of whom are injured, would you use us?' the response was positive, 100 percent of the time."
Flores, who served three total tours in Iraq and Afghanistan and suffered a traumatic brain injury, said the New York office employs eight drivers from every branch of the service, and has 10 Jaguars ready to move clients.
"All of our vehicles offer WiFi on board, we have privacy screens, and all of the seats in the front and the rear are heated and cooled," he boasted, adding that a number of Cadillac Escalades will soon join the fleet.
Many of the cars are retrofitted to accommodate the disabilities drivers incurred as a result of their military service.
Flores, who bounced around his hometown of New York looking for work after leaving the military, heard about Capstar from his contacts at Wounded Warrior Project, the charity that helps injured service members find their way back into civilian life. Capstar U.S. Director of Operations Michael Lynch, himself a veteran, said he heard about the company while it was only in London, and while he was in Baghdad working as a private contractor.
"I was approached by a friend of mine, an Army buddy, and he said that there was a successful London company and they were going to be expanding into the United States, but most importantly, they were hiring veterans , specifically wounded veterans that may have been injured during their service," he said. "And I said, 'I have to be a part of this.'"
Veterans don't oversleep, loaf or show up late for work, Lynch said. And they have a get-the-job-done mentality that makes them valuable employees in the civilian world.
"The thing about service members, they're great at doing their job, but they're also extremely creative," he said. "So they understand getting the mission done."
One Capstar client, himself a former U.S. Marine, says he feels confident with a fellow veteran getting him to his next meeting.
"Capstar has nailed it," said Greg Parsons, CEO of Semper Capital Management. "They deliver best in class functional service. As a veteran, rides with Capstar feel like being home."
Other clients include executives and celebrities, who know that when they are in the back seat of Flores' Jaguar or any other Capstar vehicle, their driver is ready for anything.
"It's a lot different when you are driving around in a 130-degree heat and you've got 90 pounds of gear and you're driving around for 15 hours," Flores said. "You can get in a car anywhere in this city, but the only thing that makes this company so great is the fact that you have a veteran behind the wheel. That's what separates this company from any other car you will get into."