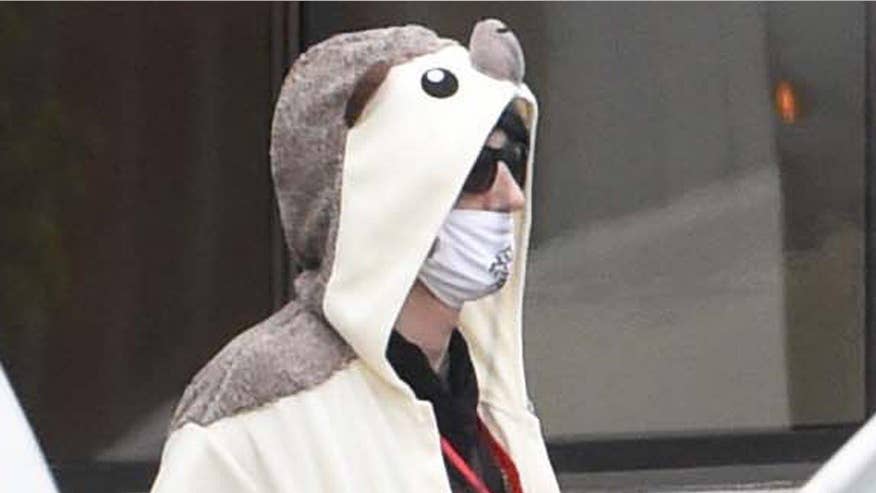 A 25-year-old man shot and wounded by police Thursday after he threatened to set off a bomb at the Fox 45 Baltimore station brought a flash drive containing a video "rant" about the end of the world, police said.
Dressed in a "hedgehog onesie," as investigators described it, Alex Brizzi walked out of the building and refused to let go of a device that resembled a detonator before a sniper shot him at least three times. Police said they later found out he did not have a bomb, but a life preserver attached to wires, aluminum foil from chocolate bars and a motherboard that apparently came from a smoke detector.
Brizzi faced charges including reckless endangerment and possessing a phony destructive device. He was recovering at a nearby hospital from injuries that were not life-threatening, police added.
His father, Edward Brizzi of Elkridge, a Baltimore suburb, told Fox 45 his son had a breakdown two weeks ago and claimed he had a vision from God that the world would end next month.
"I think what it is he wanted to go to a media outlet so he pass his message on that the world's going to end on June the third," he told the station.
Police said Alex Brizzi barricaded himself inside the station after he apparently set his sedan on fire.
Nearly an hour after the sniper shot him, police said he removed the fake bomb, and paramedics put him in an ambulance.
About two weeks ago, the suspect broke up with his girlfriend and appeared to have a breakdown, his father said. He was found sleeping in a neighbor's yard and it took seven police officers to hold him down as he was taken to a local hospital.
BPD describing device Brizzi wore: a life jacket, foil wrapped candy bars, wires & mother board from smoke detector pic.twitter.com/VzQpozP07g

— Shelley Orman (@ShelleyOFox45) April 29, 2016
Edward Brizzi said his son, who lives in the basement of his home, had been reserved since his breakdown, but he didn't have any way of making a bomb and his father didn't know he was planning anything like this. "What he was doing was probably putting himself out there thinking that he wanted to die, I think."
His wife found something with wires in their son's room Wednesday night when their son was out, but they didn't think anything of it, Edward Brizzi said. "It just didn't connect."
Edward Brizzi said he agrees with how police handled the situation.
"They've got to do their job, they can't assume it's candy bars wrapped around his side," Edward Brizzi said. "I'm a firm believer in police."
Edward Brizzi said he and his wife couldn't force their son to get treatment after his breakdown since he is an adult, but he said he believes Alex will go to a mental health center after his recovery.
"We really didn't think he was a risk to himself and he's never been a risk to anyone else," he said.
The Associated Press contributed to this report.