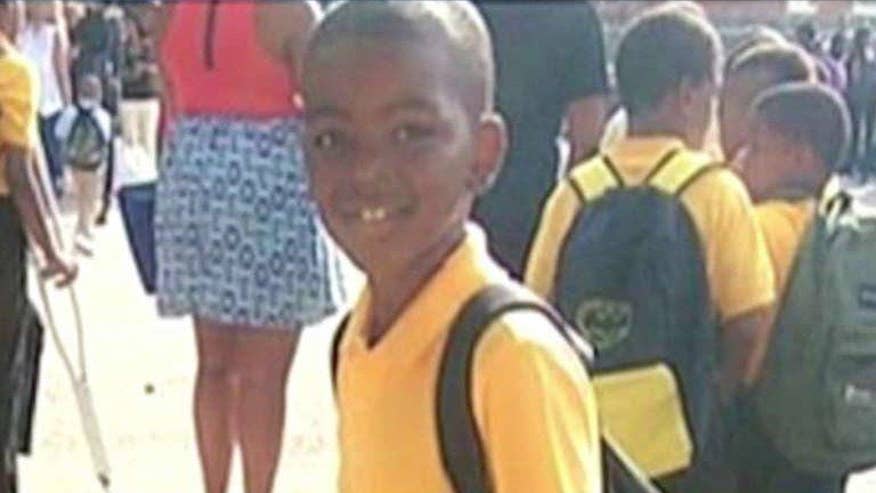 Chicago police say they identified the triggerman in the execution-style murder of a 9-year-old Chicago boy last November after the suspect bragged about the shooting while in jail.
Police charged 22-year-old Dwright Boone-Doty with the murder of 9-year-old Tyshawn Lee. The boy was lured from a park to a nearby alley and shot in the head, police say, as part of an ongoing gang feud.
"I have been a prosecutor in Chicago for nearly thirty years and I tried hundreds of cases involving senseless gang violence and gang-related homicides on the streets of Chicago that involved unspeakable acts of rage and violence but I must tell you today that I don't think I've ever been more disgusted and appalled," Cook County State's Attorney Anita Alvarez said.
The killing on Chicago's South Side was in retaliation against Tyshawn's father, according to police. Boone-Doty was arrested on unrelated gun charges later that month.
Fox News learned Boone-Doty also was surveilling the grandmother of Tyshawn Lee and potentially had plans to kill her. Police say the suspect initially planned on torturing the 9-year-old boy by cutting off his ears and fingers.
Investigators were able to tie Boone-Doty to the shooting when police say an inmate informant in the Cook County Jail told authorities the suspect boasted about shooting Tyshawn Lee. Detectives obtained court authorization for the informant to wear a wire, which captured Boone-Doty linking himself to Tyshawn's death as well as an October slaying of 19-year-old Brianna Jenkins.
The jail informant also told police that the suspect planned on writing a rap song about the brutal murder.
Police say Corey Morgan, 27, also was charged with Tyshawn's murder. There is a warrant for the arrest of a third suspect, Kevin Edwards, 22, in relation to the killing.
Initially, police say Tyshawn's father did not cooperate, as part of a gang code of silence. However, investigators now say he is speaking to them.
Tyshawn was shot in the head and grazed in the back, right forearm and right hand, according to an autopsy report reviewed by the Chicago Sun-Times.
Matt Finn is a Fox News correspondent based in the Chicago bureau. Follow him on Twitter: @MattFinnFNC