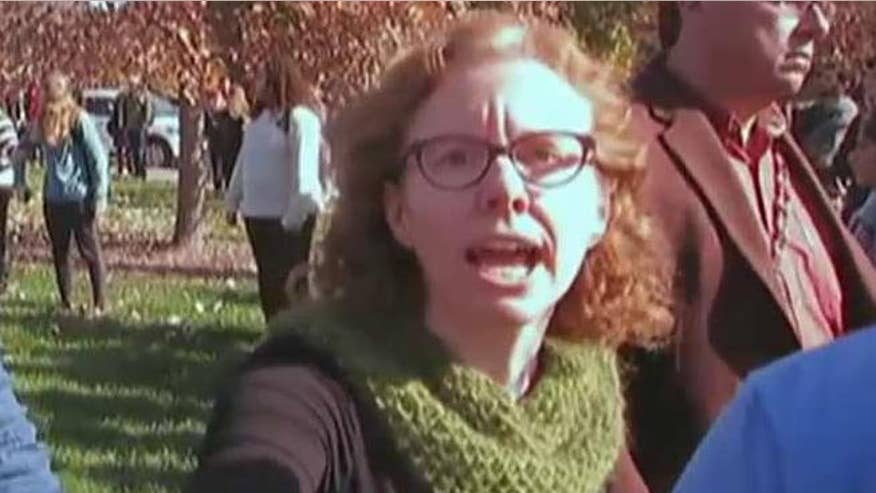 The University of Missouri communications professor seen in a pair of videos cursing at a cop and tangling with a student journalist is attempting an image makeover and trying to justify the actions that got her charged with assault and suspended from her job.
"I made mistakes supporting these students, but my intention was to, like other faculty and staff, to support a student group that was expressing that they had been excluded from MU, the MU community," Melissa Click told FOX2.
Click was suspended – with pay – from her position as an assistant professor of communication in late January after she was charged with misdemeanor assault resulting from one of the videotaped skirmishes. Prosecutors have said they'll drop the charge in a year if Click completes community service. Her position at Missouri is still being reviewed, and officials at the university are set to discuss the controversy at a public hearing Wednesday night.
"To see a police officer shaking a can of pepper spray at students who were acting non-violently, I thought, I will, I will protect them."

- Melissa Click
Click entered the public eye in November when video surfaced of her jawing with a student journalist covering campus protests regarding perceived racial issues. In that video, Click appears to grab the journalist's camera and then requests "muscle" to help get the journalist to leave the area. A second video, taken during an Oct. 10 Homecoming Parade, surfaced late Sunday night after The Missourian obtained police body camera footage of the event. In that tape, Click forces herself between a police officer and campus activists who had been blocking the parade route, telling the officers to "get your hands off the children."
"We live two hours from Ferguson. It's been a pretty rocky year in the United States and to see a police officer shaking a can of pepper spray at students who were acting non-violently, I thought, I will, I will protect them," Click told FOX2.
Later in the Oct. 10 video, Click uses a profanity against an officer who grabs her shoulder as he tries to direct her back onto the sidewalk.
"That's a moment that I'm sorry for," Click said. "I think I was surprised that an officer put his hands on me and pushed me. Like I said, I've never done anything like that before."
Interim Chancellor Hank Foley said in a statement emailed to The Missourian that Click's actions in the Oct. 10 footage were "appalling." He said he was "not only disappointed, I am angry."
Click said Foley's words set a "dangerous precedent."
"I think it sends a message to faculty that they should think twice before they stand up for students who are threatened, and I also think he created an environment where I'm not going to be able to get a fair evaluation for my behavior," Click said.
As she bids for that "fair evaluation," Click is also attempting to repair her image. Instead of being viewed as the angry, combative person depicted in the widely-seen videos, Click is working with Status Labs, an Austin-based reputation management firm, to soften her image. The Missourian posted a trio of black and white pictures from Status Labs that depicted a smiling, relaxed Click.
"Our goal is that, when the smoke clears and people search for Melissa Click online, they find her side of the story," Status Labs' Senior Media Director Lacy Rushin said in an email to the Missourian, "along with information about her career and accolades, rather than just information about this one incident."