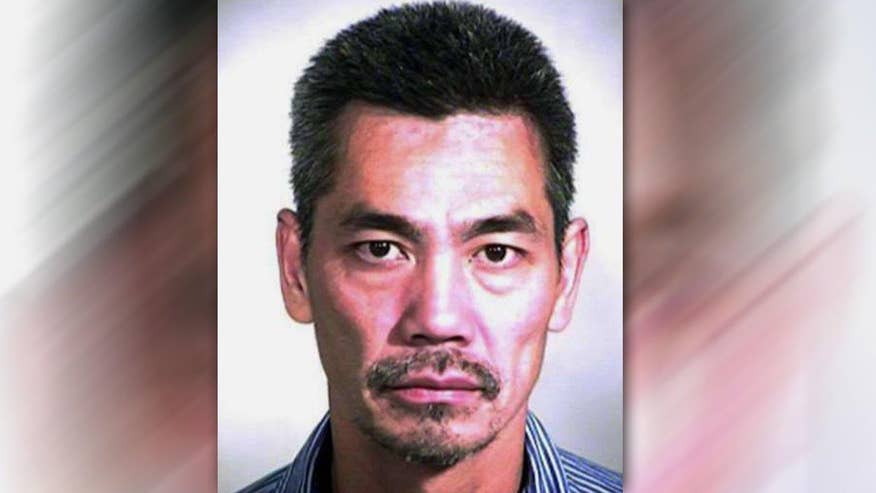 One of three violent inmates who broke out of a Southern California jail a week ago surrendered Friday and authorities believe the other two may be 400 miles north in the San Jose area.

Bac Duong, 43, who had been ordered deported to Vietnam in 1998 but never left, contacted a civilian on the street in Santa Ana, Calif., and told that person he wanted to turn himself in, Orange County Sheriff Sandra Hutchens said at an afternoon press briefing.
Sheriff's Lt. Jeff Hallock says the other two men, Jonathan Tieu and Hossein Nayeri, may now be headed to Fresno in Central California, where there may be associates who can help them.
Hallock says Duong told investigators he was with the other two fugitives in San Jose on Thursday.
It's not clear how he got back to Southern California to turn himself in.
Duong was originally being held at the Orange County Jail without bond since last month on charges of attempted murder, assault with a deadly weapon, shooting at an inhabited dwelling, being an ex-felon in possession of a firearm and other charges.
Two law enforcement sources told Fox News that Duong told police when he was taken into custody that a gang with which he was associated threatened to kill him if he did not surrender.
Authorities had been regularly paying visits to Vietnamese gambling houses since Duong's escape, the sources said.
Shortly after Duong was taken into custody, the Orange County Sheriff's Office YouTube account released video of his arrest.
The two other escapees, Hossein Nayeri and Jonathan Tieu, are still at large.
The men escaped early Jan. 22 from the Orange County jail after cutting a hole in a metal grate then crawling through plumbing tunnels and onto the roof of a five-story jail building.
They pushed aside barbed wire and rappelled down using a rope made of bed sheets.
It took jail staff 16 hours to realize the three men were missing because an assault on a guard delayed an evening head count.
They were last seen at a 5 a.m. check but were not determined to be missing until 16 hours later partially because an assault on a guard delayed an evening census.
Hutchens, who oversees the jail, has said she was extremely troubled by how long it took to discover the inmates were gone.
Immigration authorities and records indicate Duong had been ordered deported to Vietnam in 1998 but remained in the country and racked up a lengthy rap sheet.
For many years, Vietnam did not honor U.S. government requests to repatriate deportees. In 2008, Vietnam agreed to provide travel documents for deportees but only those who entered the U.S. since July 1995.
Nayeri, the probable mastermind in the escape, had help from a woman whose English classes he was taking while locked up, authorities allege.
It was the first escape in nearly three decades from the California facility built in 1968. The jail holds 900 men and is located in Santa Ana, about 30 miles southeast of Los Angeles.
The escape raised questions about security at the jail in suburban Orange County and resembled a similar breakout last summer at a state prison in upstate New York.
In that case, two inmates also cut through a wall that was hidden by a bunk bed and used the hole to access piping and tunnels that led outside.
Fox News' Adam Housley and the Associated Press contributed to this report.