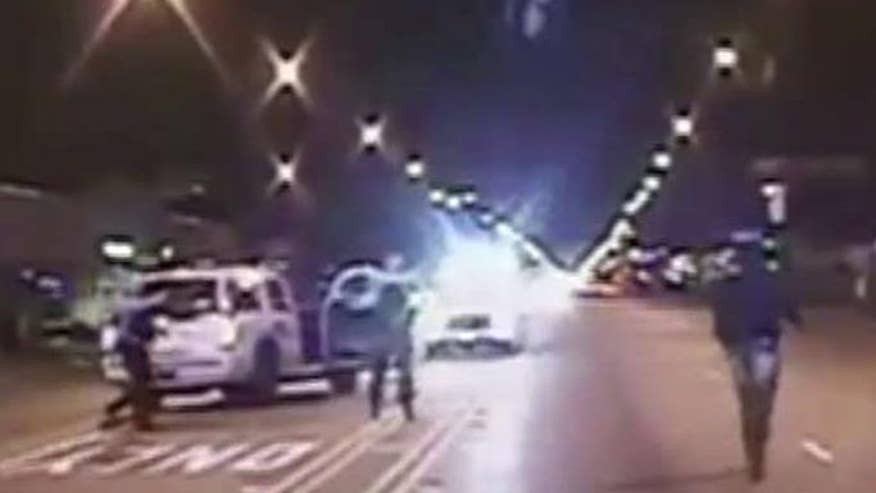 Two Chicago police officers have been put on administrative leave because their reports on the fatal shooting of a black teenager by an officer in 2014 contradict what can be seen on squad car video of the incident.
Detective David March and Officer Joseph Walsh gave accounts of Laquan McDonald's shooting death that conflict with video of the event, the Chicago Tribune reported. Walsh's partner, Officer Jason Van Dyke, has pleaded not guilty to first-degree murder in McDonald's death. He is accused of shooting the black teen 16 times in October 2014.
March and Walsh were put on leave on the recommendation of the Chicago Office of Inspector General Joseph Ferguson in mid-December, although they retain full police powers. The office is the city's internal watchdog and its recommendation isn't binding. The Independent Police Review Authority, the city agency that investigates police-involved shootings, referred the case to the inspector general.
"Officer Walsh is currently assigned to desk duties within the 8th district and Detective March has been removed from all current investigations within the Bureau of Detectives," Chicago police spokesman Anthony Guglielmi said in a statement sent to The Associated Press on Friday. "While these officers are listed in an active status - meaning their police powers are not formally suspended - they are no longer serving in operational capacities."
Chicago Mayor Rahm Emanuel's spokesman Adam Collins told the Chicago Tribune on Thursday night that "as the superintendent has made very clear, any officer proven to have engaged in wrongdoing will face swift punishment, and any officer found to have lied in the course of their work will be fired."
Records show that Walsh and March have been called at least twice to appear before a federal grand jury investigating McDonald's death. The Tribune could not reach either officer for comment.