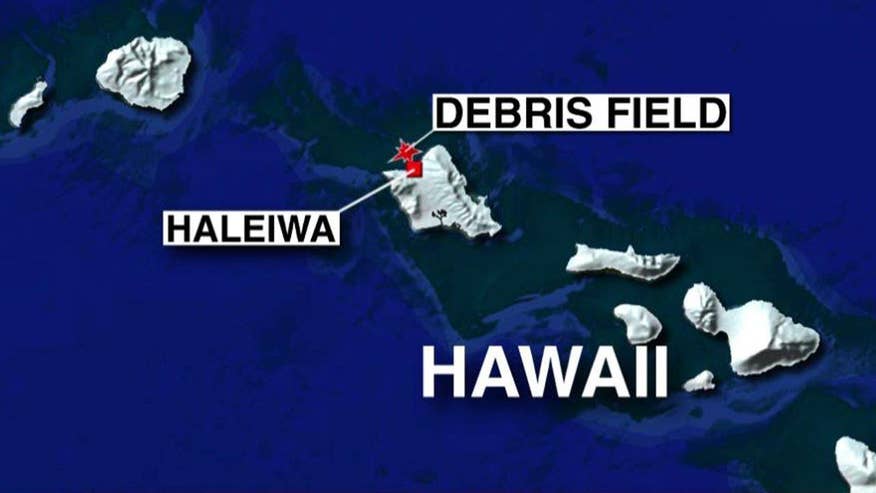 The U.S. Coast Guard searched Friday for two Marine helicopters that collided with 12 people on board near the Hawaiian island of Oahu.
Search conditions were challenging because of darkness and high surf, Coast Guard Chief Petty Officer Sara Mooers told Los Angeles radio station KNX-AM. She said a high surf advisory was in effect for waves 10 to 15 feet building throughout the morning.

Coast Guard District 14 told CBS News the debris field included an empty life raft and fire on the water.
The transport helicopters each had a crew of six from Marine Corps Base Hawaii and crashed just before midnight Thursday, officials said. No other passengers were aboard the CH-53E "Super Stallions," which came from the 1st Marine Aircraft Wing, Marine Capt. Timothy Irish said.

The aircraft were taking part in a nighttime training mission. It's unclear what caused the crash.
A Coast Guard helicopter and C-130 airplane spotted the debris field 2 1/2 miles offshore early Friday. The debris covers an area of 2 miles, Irish said.
The search includes aircraft from the Navy and Air Force, a Honolulu Fire Department rescue boat and Coast Guard cutters, officials said.
"It is a true search-and-rescue effort, and it is ongoing," Irish said just before daybreak on Oahu, where a steady rain was falling on the North Shore.

The collision comes less than a year after the Marine Corps' new hybridized airplane-and-helicopter aircraft crashed during a training exercise, killing two Marines. The MV-22 Osprey went down last May with 21 Marines and a Navy corpsman on board. In 2011, one serviceman was killed and three others were injured when a CH-53D Sea Stallion chopper crashed in Kaneohe Bay, Hawaii.
Fox News' Jennifer Griffin and The Associated Press contributed to this report.