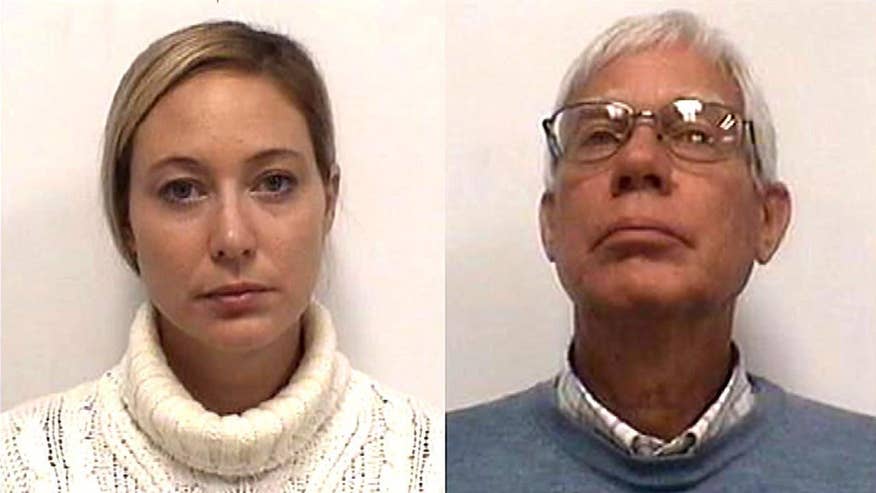 A North Carolina woman and her former FBI agent father have been charged in the August murder of the woman's husband.
Molly Martens Corbett, a 31-year-old former model, and her father, retired FBI agent Thomas Michael Martens, were charged with second-degree murder and voluntary manslaughter in the death of Corbett's husband in August, according to grand jury indictments unsealed Monday.
"It was an extremely thorough investigation," Davidson County Sheriff David Grice told The-Dispatch newspaper Monday. "We are pleased with the decision of the grand jury."
Authorities found 39-year-old Jason Paul Corbett, of County Limerick, Ireland, with fatal head injuries when they responded to a 911 call about an assault just after 3 a.m. on Aug. 2 at Corbett's Davidson County, N.C., home.
According to police reports obtained by The-Dispatch, the caller, believed to be 65-year-old Martens, told a Davidson County 911 operater he had been in an argument with his son-in-law and struck him with a baseball bat.
Corbett and Martens, of Knoxville, Tenn., were immediately identified as persons of interest in the case.
Jason Corbett had two young children from a prior marriage. His first wife, Margaret Fitzpatrick Corbett, died in November 2006 of a sudden asthma attack, according to the Winston-Salem Journal. Corbett married Martens in 2011.
Corbett's death caused a bitter custody battle between Molly Martens Corbett and her late husband's family in Ireland. The children's aunt and uncle in Ireland ultimately gained custody, according to multiple media reports.
Mike Earnest,, Molly Martens Corbett's uncle, told UTV Ireland that the two are expected to claim self-defense, arguing their actions were necessary and justified.
Earnest released a statement to the media Monday, saying, "I have known Tom Martens for 44 years and Molly since she was born 32 years ago; there are no finer people you would care to meet.
"The actions of self-defense that Tom and Molly took the morning of August 2 were completely necessary and justified," Earnest said.
The Winston-Salem Journal reports that Molly Corbett posted a statement on her Facebook page on Monday, saying, "I cannot believe the level of slander, harassment, lies and absolute utter corruption."
"The truth does not matter. Shouldn't the truth matter? Shouldn't the truth prevail? Doesn't anyone care about the truth?" she wrote.
Corbett and Martens were each charged with one count of second-degree murder and one count of voluntary manslaughter.
If convicted, the second-degree murder charges could carry a life sentence.
Court dates for Corbett and Martens have not been announced.