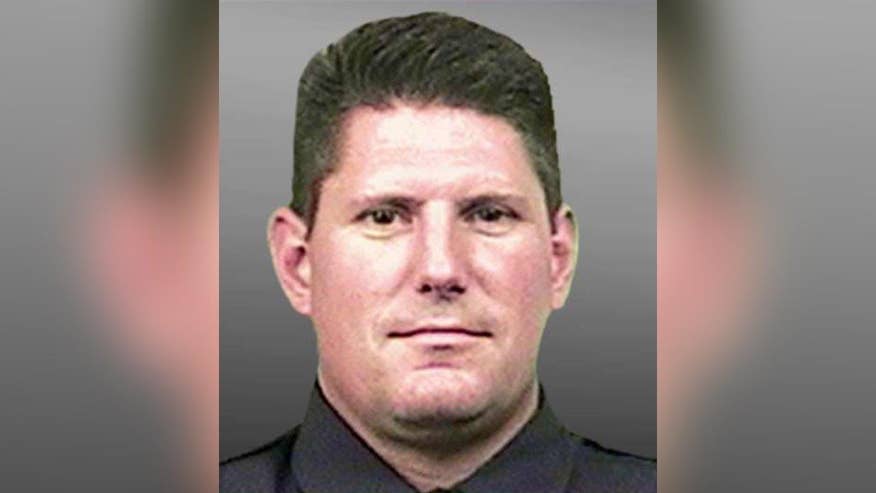 One of the six U.S. service members who died in a Taliban suicide bombing in Afghanistan Tuesday was a woman, a senior U.S. defense official tells Fox News.
She was identified as Air Force Major Adrianna Vorderbruggen, a service member who fought for LGBT rights, and one of the first to get married in a same-sex wedding ceremony.
The bodies of the six Americans are scheduled to arrive at Dover Air Force Base in Delaware Wednesday.
Two of the victims were airmen from Stewart Air National Guard Base in New Windsor, New York, officials confirmed Tuesday. And on Monday, New York Police Commissioner Bill Bratton named one victim: Detective Joseph Lemm, a 15-year NYPD veteran.
Bratton said Lemm had been deployed twice to Afghanistan and once to Iraq while a member of the police force.
"Detective Joseph Lemm epitomized the selflessness we can only strive for: putting his country and city first," Bratton said in a statement. "Tonight, we grieve and we remember this selfless public servant who dedicated his life to protecting others."
Lemm leaves behind a wife and three children.
Speaking about the two airmen, Orange County Executive Steven Neuhaus said his county "mourns the loss of these two servicemen killed by an IED. These men are true heroes and will be deeply missed."
The Taliban claimed responsibility for the attack, which targeted a joint NATO-Afghan patrol as it moved through a village near Bagram Airfield, the largest U.S. military facility in Afghanistan. The attacker rammed an explosives-laden motorcycle into the patrol, killing the six Americans and wounding two U.S. troops and an Afghan.
"Our heartfelt sympathies go out to the families and friends of those affected in this tragic incident, especially during this holiday season," U.S. Army Brig. Gen. William Shoffner, head of public affairs at NATO's Resolute Support base in the Afghan capital Kabul, said in a statement.
In Washington, White House press secretary Josh Earnest said the nation's thoughts and prayers are with the victims, their families and their loved ones, and that the U.S. will continue to work jointly with Afghans to promote peace and stability in their country.
Secretary of Defense Ash Carter in statement called the attack "a painful reminder of the dangers our troops face every day in Afghanistan."
It was the deadliest attack on foreign troops in four months.
In the year since the international drawdown, the Taliban insurgency has intensified. Although the combat mission ended last year, around 9,800 U.S. troops and almost 4,000 NATO forces remain in Afghanistan. They have a mandate to "train, assist and advise" their Afghan counterparts, who are now effectively fighting a battle-hardened Taliban alone.
Monday's attack came as Taliban fighters and government forces battled for control of a strategic district in the southern province of Helmand after it was overrun by insurgents, delivering a serious blow to the government's thinly spread and exhausted forces.
Mohammad Jan Rasulyar, Helmand's deputy governor, said insurgents took control of Sangin district late Sunday.
Rasulyar had taken the unusual step of alerting Afghan President Ashraf Ghani to the dire security situation and requesting urgent reinforcements through an open letter posted on Facebook on Sunday, saying that he had not been able to make contact through other means.
"We had to take to social media to reach you as Helmand is falling into the hands of the enemy and it requires your immediate attention," Rasulyar wrote in his Facebook post to Ghani.
On Monday, Defense Ministry spokesman Dawlat Waziri said Afghan Army commandoes and special forces had arrived in Sangin to push a counter-offensive. He told reporters the Afghan air force had conducted 160 combat and transport flights over Sangin in the past 48 hours.
Helmand is an important Taliban base as it produces most of the world's opium, a crop that helps fund the insurgency.
Fox News' Jennifer Griffin and The Associated Press contributed to
this report.