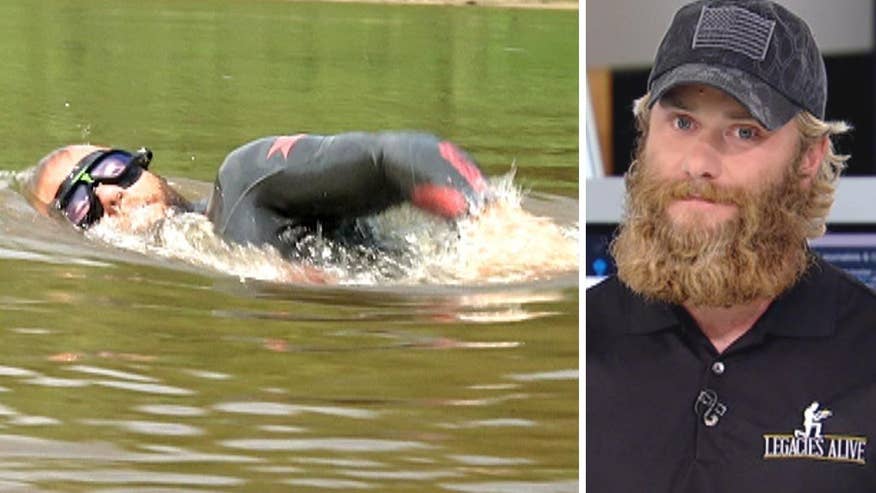 When the 113th installment of the storied Army-Navy football rivalry kicks off Saturday in Philadelphia, two former cadets who once wore the Black Knights' uniform will once again be taking in the game with families that paid the ultimate price for their country.
Mike Viti and Mark Faldowski, two West Point alumni and combat veterans, co-founded the nonprofit Legacies Alive to support Gold Star families – families who have lost loved ones to service for their country. Through various fundraising projects, they help to establish memorials for military members in their hometowns.
But taking in America's proudest gridiron rivalry is just another way to bring national awareness to the life and character of all military men and women who died fighting for America, and to honor their families.
"Mike just got out of a tough deployment to Afghanistan with the 4th Infantry Division, and I had just come back from my third deployment," Faldowski told FoxNews.com, describing how Legacies Alive came to be. "We wanted to somehow honor the families that lost loved ones, because they're the ones that bear the burden of what 13 years of war looks like."
"We felt, as young men, if not us to help these families, then who?"

- Mark Faldowski
Faldowski and Viti turned their idea into reality by calling and visiting with Gold Star families to erect permanent memorials that depict and preserve the legacies of our fallen heroes as service members and as unique individuals.
"We felt, as young men, if not us to help these families, then who?" Faldowski said. "We never wanted to paint the picture of how someone died; but how they lived. We wanted to help these Gold Star families to identify their loved ones' legacy."
Collecting pledges for physical challenges is a cornerstone of Legacies Alive's fundraising. Last year, Viti started a six-month hike that began in Dupont, Wash., and ended at the Army-Navy game at M&T Bank Stadium in Baltimore. Walking an average of 25 miles a day, Viti covered the perimeter of the United States, logging 4,400 miles, and honoring the 6,843 military service members who were killed in the War on Terror –ending his journey just in time for kickoff. He dedicated the last leg of his journey, which ended at the stadium, to one fallen Army football player, Viti and Faldowski's former teammate; and one fallen Navy football player –JP Blecksmith.
Prior to the game, Becksmith's father, Ed Blecksmith, a Marine who served in Vietnam, received a phone call from Faldowski.
"Mark found my information, and invited my family and me to the Army-Navy game," Blecksmith told FoxNews.com. "When we got there, I was blown away."
Marsha Moon, the Gold Star mother of 82nd Airborne Division Army Spc. Christopher Moon, met Mike Viti during his journey last year. Working together, they helped dedicate a life-sized bronze statue of Christopher Moon that will soon grace the entrance of his old high school in Tucson. The memorial is a personal tribute to Moon, showing him playing baseball and honoring his service in Afghanistan.
"As I walked with Mike Viti, I shared my story," Marsha Moon told FoxNews.com. "I just believed that in some way, somehow, we were all connected."
In Parker County, Texas, which lost six of its young people to the War on Terror, Legacies Alive helped raise funds to establish Soldiers Spring Veteran's Memorial Park to honor their legacies and tell their story. Similar projects are ongoing around the country.
The extreme physical events through Legacy Challenges provide Legacies Alive with the platform to raise money to fund travel for Gold Star families to events like Saturday's game as well as memorial projects for their fallen loved ones.
Legacies Alive's 2015 challenge "Swim for the Sacrifice!" was completed by Navy combat veteran Chris Ring early this month, as the first American to swim the entirety of the Mississippi River.
Blecksmith joined Faldowski, Viti and Ring to begin the second Legacy Challenge, and to complete the swim last week to honor the Gold Star families and the fallen.
"It was truly a humbling experience," Ring told Fox News.com. "To have these families open up and share their stories with me was inspiring. There were days I'd swim, and be exhausted, but get out of the water and hug a Gold Star family member with tears in their eyes. It was very powerful for me to get that response, and really showed that I was doing the right thing."
The first thing Legacies Alive did when "Swim for the Sacrifice!" was finished, was present the Moon family with a check for $15,000 to continue to the next phase of creating Chris' Memorial.
"As time passes for everyone else, these families are still the ones without their husbands or wives; their daughters or sons," Faldowski said.
"Marine Corps training is that you complete the mission," Blecksmith said describing the healing process since JP's death and involvement with Legacies Alive. "Life isn't a roundtrip-- It's a one-way ticket, and you've got to keep moving forward."
This year, Legacies Alive will host 12 Gold Star families for Army-Navy weekend in Philadelphia and the game, which begins at 3 p.m. at Lincoln Financial Stadium.
"Army-Navy is a stadium filled with patriots," Faldowski said. "It's really our powerhouse. We feel comfortable in that arena. The focus is bringing these families together."
Friday evening, Legacies Alive divided families into groups for dinner, with plans for a Saturday morning tailgate and a walk into Lincoln Field, together.
"We will walk in as a united front with these Gold Star families, mixed in with our veterans," Faldowski said.
After the game, Legacies Alive will host an event for the families to celebrate the weekend of coming together to remember their loved ones.
"We refer to ourselves as a train," Faldowski said. "People who have this shared sacrifice get on. We're a safe haven for these Gold Star families."
Brooke Singman is a Politics Reporter for Fox News. Follow her on Twitter at @brookefoxnews.