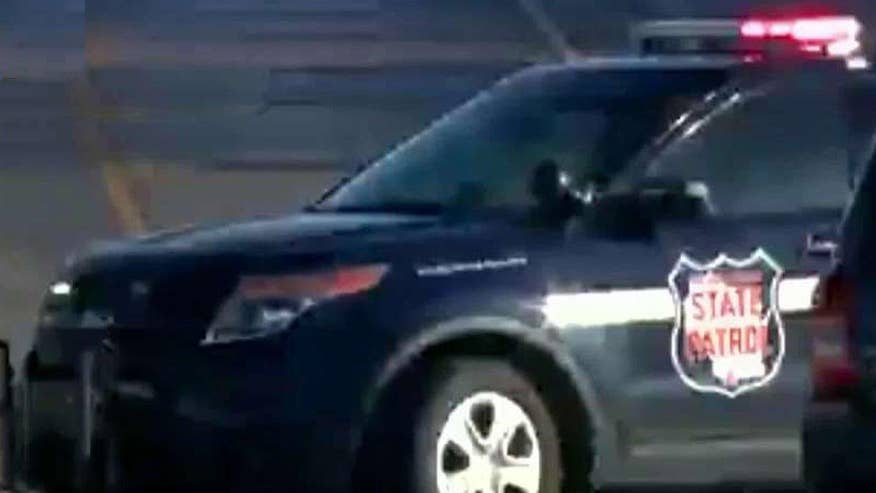 Two people, including a police officer, were taken to the hospital Saturday after a shooting and four hour-long standoff in a small Wisconsin town that prompted police to evacuate nearby homes and businesses.
Neenah Police Chief Kevin Wilkinson told reporters at a brief afternoon press conference that the officer was okay.
"He's fine; he's being checked out," he said.
The briefing came as local media reported that the standoff had ended with two people in custody.
"The scene has been made safe," Wilkinson said. He did not say who had been arrested.
No condition was reported on the injured civilian.
The incident began about four hours earlier. Police received a call of shots fired at Eagle Nation Cycles in downtown Neenah shortly before 9 a.m., police said.
When officers arrived at the motorcycle shop they encountered a "subject with a weapon" and "potential hostages," Wilkinson said.
He said SWAT teams from Neenah and other towns were then brought in to handle the situation.
Before the chief spoke, Neenah Mayor Dean Kaufert told reporters that people were in the basement of the shop and there had been more than 30 shots fired, according to Fox 11 News.
As the incident was unfolding the Neenah Police Department advised area residents to "shelter in place" away from windows and preferably in a basement.
A short time later on Facebook the department announced that officers were monitoring a "high risk" situation and that a number of homes and businesses in the area had been evacuated.
"Working to maintain safety. Please continue to stay away from the area," the Facebook posting said.
The Associated Press contributed to this report.