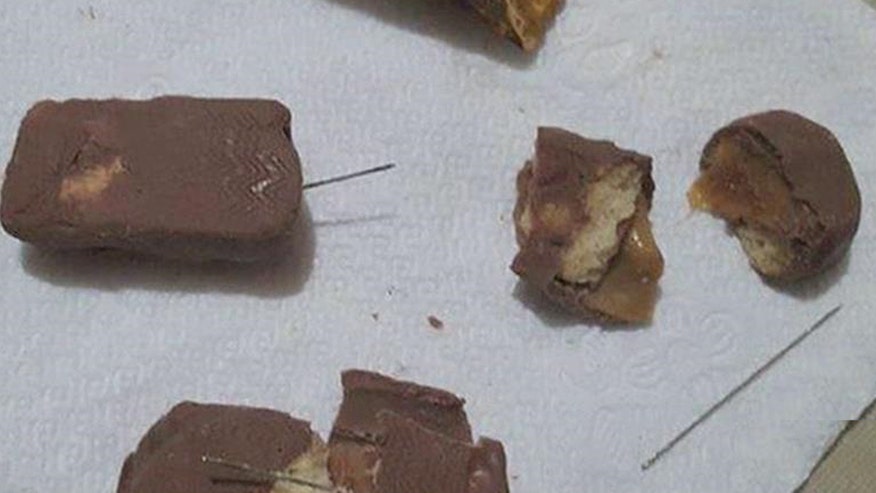 Police in a Philadelphia suburb launched a food tampering investigation Sunday after receiving multiple reports of needles in children's Halloween candy.
The Kennett Square police department originally posted on Facebook warning about a "needle-type item" found inside wrapped candy bars given to four different children on Halloween night. Authorities urged parents to check all candy their children were given. Police photos of the candy showed the foreign objects looked like sewing needles.
Philly.com reported that the needles were found in five wrapped Twix bars given to four children from different households Saturday night. The case advanced when a 12-year-old child turned in a Snickers bar to cops Sunday afternoon that also contained a needle, CBS19 reported. That child was trick-or-treating in the same area as the kids from the original report. CBS19 identified the children as all being under 12 years old.
There have been no reports of any injuries or that anyone ingested the tampered treats. People who have leftover candy are being asked by police to check it for possible foreign objects.
Investigators said Sunday the candy and packaging containing the objects have been submitted for examination.
The Philadelphia cases come on the heels of several reports around the country of people finding sharp objects in Halloween candy.
Police in central Minnesota also were investigating after a woman reported finding a needle in her child's candy on Halloween. The woman in Brainerd said she found the needle in a small candy bar while inspecting the candy in her child's bag.
The Tyler County Sheriff's Office said in a Facebook post that a concerned West Virginia mother who was inspecting her children's candy "found a piece of a disposable razor blade in a bite size Snickers bar."
Ohio police also reported that a Reynoldsburg girl found a disposable razor inside a candy bar, according to FOX2. The girl didn't discover the blade until she took a bite, according to parents. The rest of the girl's candy was x-rayed but nothing suspicious was found.
"Everything looked credible," said Shane Mauger of the Reynoldsburg Police. "It looked to be on the up and up."
In North Reading, Mass., near Boston, police said they received reports of a home there leaving out samples of Hyland's 4 Kids Cold 'n Mucus cough syrup on Saturday.
One case that turned out not to be credible was an Auburn, Mass. girl who told police she found a foreign item in her candy. The story quickly went viral -- until cops reported it was a hoax.
"After interviewing her along with her mother, it has been determined that the entire story was a fabrication created by the child," police wrote on Facebook.
The Associated Press contributed to this report.