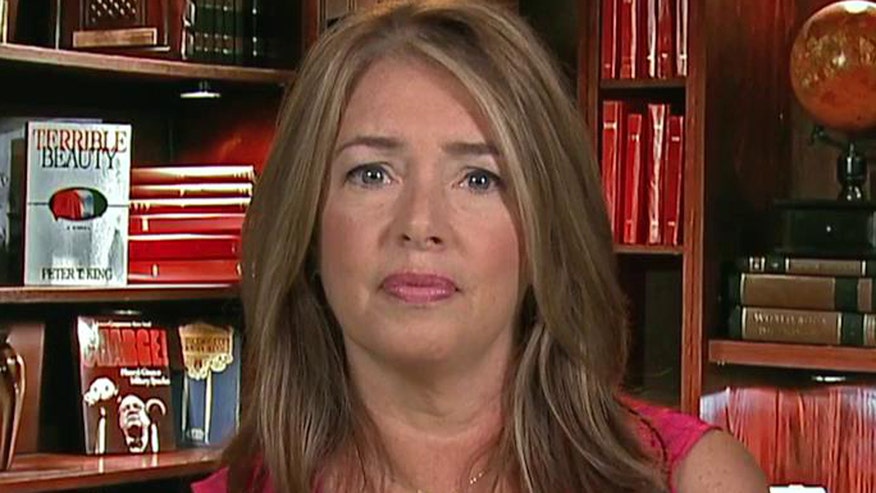 Officials on Wednesday described the dramatic sequence that ended in the death of a hero.
It began when officer Randolph Holder responded to a "shots fired" call around 8:30 p.m. on Tuesday night. It ended, police say, 13 minutes later when a career criminal fired a bullet that entered Holder's forehead and left him dead on an East Harlem street.
The man alleged to have gunned down Holder was described by Mayor Bill de Blasio as a "hardened, violent criminal" who "shouldn't have been on our streets" during a news conference Wednesday afternoon.
Tyrone Howard, 30, already had numerous prior convictions for drug-related offenses and was wanted for a September shooting when police say he shot and killed Holder. Howard, who was wounded in the leg during the incident, was released from the hospital and into police custody earlier in the day.
"Even as we in this country are reducing the number of people in prison, there are some people who have to be in prison, and we have to make sure they stay there," Police Commissioner Bill Bratton said.
Around 8:30 p.m., two housing officers witnessed individuals firing weapons at each other and radioed for assistance. Police say Howard was one of the men and fled on foot when he realized police were on their way. Before too long, Howard allegedly stole a bike from another man, threatening him with a gun, as he tried to speed up his getaway.
Holder responded to the call for assistance along with another officer, and the two began questioning a trio of individuals on a walkway. After realizing the men had nothing to do with the call, Holder and his partner began to walk away when cops say Howard approached the men, got off his bike and fired the shot that struck Holder in the forehead and killed him. Howard then allegedly turned toward the second officer, at which point he was wounded and apprehended.
Bratton said Howard will stand in lineups later Wednesday for the bike robbery and shots-fired charge, while cops continue to build a murder case against him.
It was suggested during the Wednesday news conference that Howard may have been released from prison due to a diversion program.
"He would have been the last person in New York City I would have wanted to see in a diversion program," Bratton said.
A five-year veteran of the force, Holder was an officer in the department's Housing Bureau, which polices the city's public housing developments. Bratton, on Tuesday, described Holder as running "toward danger" and doing "what every officer in the NYPD does."
"It was the last time he will respond to that call," Bratton said.
Holder was pronounced dead at 10:22 p.m. Dozens of uniformed and plainclothes officers lined the hospital hallway while other officers held each other as they arrived.
"We are humbled by Officer Randolph Holder's example, an example of service and courage and sacrifice," de Blasio said Tuesday. "Our hearts are heavy. We offer our thoughts and our prayers to his family."
Holder was a native of Guyana, where his father and grandfather both were police officers, Bratton said.
Flags were at half-staff Wednesday at buildings and other structures around the boroughs and at all state government buildings to mark Holder's death.
"Last night, one of New York's Finest was taken while in the line of duty," Governor Andrew Cuomo said. "Officer Holder acted with bravery and selflessness in protecting countless New Yorkers in the midst of an extremely dangerous situation. Today I ask all New Yorkers to keep Office Holder's loved ones and colleagues at the NYPD in their thoughts and prayers."
Patrolmen's Benevolent Association President Patrick Lynch said: "New York City police officers every day go out and carry themselves like superheroes. But the reality is when we're attacked, we bleed. When we bleed, we die. And when we die, we cry."
Holder is the fourth NYPD officer to die in the line of duty in the last 11 months.
On May 2, Officer Brian Moore was shot while questioning suspect Demetrius Blackwell in Queens. Moore died of his injuries two days later.
On December 20, detectives Rafael Ramos and Wenjian Liu were gunned down as they sat in their car in Brooklyn by Ismaaiyl Brinsley, who stated that he wanted to avenge the police-involved deaths of Michael Brown and Eric Garner by killing officers. Brinsley later shot himself in the head while fleeing police.
So far this year, 101 police officers have died in the line of duty in the U.S. -- 33 of those deaths caused by gunfire -- according to the Officer Down Memorial Page. By early Wednesday, Holder's name already had been added to the list.
The Associated Press contributed to this report.
Click for more from Fox5NY.com.
Click for more from The New York Post.