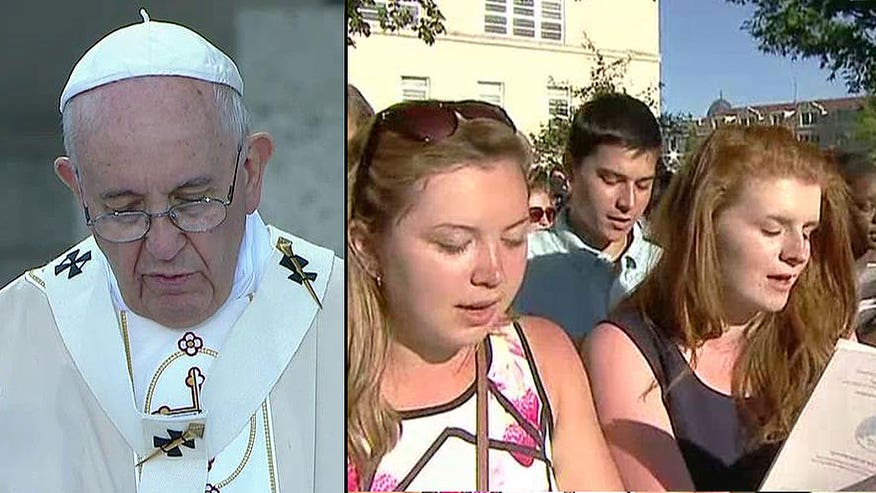 Pope Francis elevated California missionary Junipero Serra to sainthood in the first U.S. canonization ceremony after spending his morning in Washington D.C. speaking on the White House lawn alongside President Obama.
Francis arrived at the Basilica of the National Shrine of the Immaculate Conception in the popemobile before a crowd of 25,000 after switching from his now-famous Fiat.
Several thousand of the 25,000 tickets to the event were set aside for Spanish-speaking people, many from California. A temporary sanctuary was erected outdoors for the Mass.
Serra was a Franciscan friar who marched north from Baja, California with Spanish conquistadors, establishing nine of the 21 missions in what is now California.
The canonization was polarizing, as Serra is revered by Catholics for his missionary work, and many Latinos in the U.S. view his canonization as a badly needed acknowledgment of Hispanics' role in the American church.
Many Native Americans, however, say Serra enslaved converts and contributed to the spread of disease that wiped out indigenous populations. In July, Francis issued a broad apology for the church's sins against indigenous peoples.
In his homily on Wednesday, Francis defended Serra, characterizing him as a kind and open-hearted man who protected Native Americans from colonizers.
"He was excited about blazing trails, going forth to meet many people, learning and valuing their particular customs and ways of life," Francis said. "Junipero sought to defend the dignity of the native community, to protect it from those who had mistreated and abused it. Mistreatment and wrongs which today still trouble us, especially because of the hurt which they cause in the lives of many people."
Earlier in the day, Francis delivered his first message to the United States, saying he was looking forward "to these days of encounter and dialogue."
"I am deeply grateful for your welcome in the name of all Americans. As the son of an immigrant family, I am happy to be a guest in this country, which was largely built by such families. I look forward to these days of encounter and dialogue, in which I hope to listen to, and share, many of the hopes and dreams of the American people," Francis said.
In his address, the Argentinian touched on the topics of climate change and religious freedom, immediately putting two controversial topics at the forefront of his visit.
"With countless other people of goodwill, [American Catholics] are likewise concerned that efforts to build a just and wisely ordered society respect their deepest concerns and their right to religious liberty. That freedom reminds one of America's most precious possessions ... all are called to be vigilant, precisely as good citizens, to preserve and defend that freedom from everything that would threaten or compromise it," Francis said, turning to look at Obama as he spoke.
The pontiff also praised Obama for his work in combating climate change.
"Mr. President, I am finding it encouraging that you are proposing an initiative for reducing air pollution, accepting the urgency. It seems clear to me also that climate change is a problem which can no longer be left to future generations. When it comes to the care of our common home we are living at a critical moment of history," Francis said to applause from the gathered crowd.
Shortly after the ceremony, Francis and Obama had a sit-down meeting and Obama gave the pontiff a tour of the White House. Francis then delighted an adoring crowd with his popemobile procession in Washington, moving slowly past throngs lining his route from the White House.
At one point, a young girl carrying a yellow banner got outside the police barricade holding the crowds back and tried to approach the popemobile. She shied back when a bodyguard came near to pick her up and bring her to Francis. But then the pope gestured to her to come to him, and she allowed the bodyguard to pick her up and bring her to Francis for a papal kiss and blessing.
Francis arrived in Washington, the first stop on his six-day, three-city tour of the U.S., late Tuesday afternoon. He was greeted at Andrews Air Force Base by Obama, Vice President Joe Biden, their wives, and Obama's daughters before being driven to the diplomatic mission where he will spend his time in the nation's capital.
On Thursday, Francis planned to deliver the first papal address ever to Congress, speaking to Republican-majority legislators deeply at odds with Obama on issues such as gay rights, immigration, abortion and climate change.
The Associated Press contributed to this report.