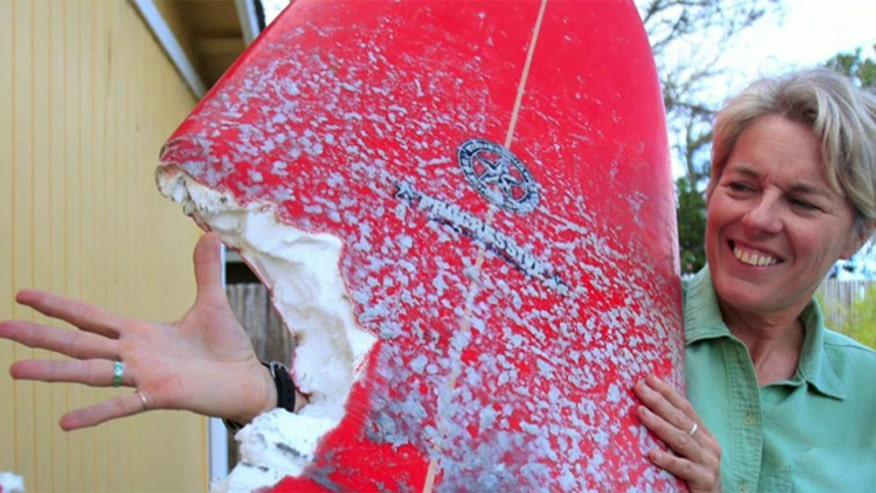 A California surfer narrowly escaped injury on Saturday after a great white shark bit off a chunk of her board off the state's central coast.
Elinor Dempsey, 54, of Los Osos, California, said she was surfing at Morro Strand State Beach, just north of Morro Bay, around 10 a.m. when a shark swam under her board and chomped on it, leaving a 14-inch wide bite mark.
"First I thought it was a dolphin and I thought, 'What the hell is he doing?'" Dempsey told the San Luis Obispo Tribune. "And he kind of landed on my board. Then I realized he had taken a chunk. And I was, like, that's not what dolphins do."
Dempsey pushed her board toward the shark and jumped off. Other surfers who saw the attack warned everyone else to get out of the water. Some of the surfers helped Dempsey reunite with her board, and she got back on it to get to the shore.
"I saw her being tumbled off her board and the shark underneath the board," surfer Jamie Bettencourt, who witnessed the incident, told the newspaper. "So it was kind of a tangle of her and the board and the leash and the shark — dark gray fin and tail. And she was yelling and the shark went under and swam away."
Officials closed the beach for 72 hours and posted warning signs at nearby beaches, said beach's supervising ranger, Lisa Remington.
Experts will analyze the bite mark and teeth pattern to determine the size of the shark. A U.S. Fish and Wildlife biologist who happened to be in the area and examined the board estimated that the shark was a 6-foot-long adult male.
Ralph Collier, a shark researcher at the Los Angeles-based Shark Research Committee who will examine the board, said the bite "might only be 30 percent of the actual jaw.
"You could be looking at an animal 13 to maybe 15 feet," he told the San Luis Obispo Tribune.
Collier added that great white sharks have been protected in California for 15 years, which has led to a population boost – and therefore more encounters with humans. On Aug. 18, a shark attacked a fisherman's kayak near Gaviota State Beach.
Dempsey told the newspaper that she was shaken by her close encounter with the shark and might take a break from surfing.
"I'll be staying close in from now on," she said. "I'll probably be on my boogie board for a little while."
The Associated Press contributed to this report.