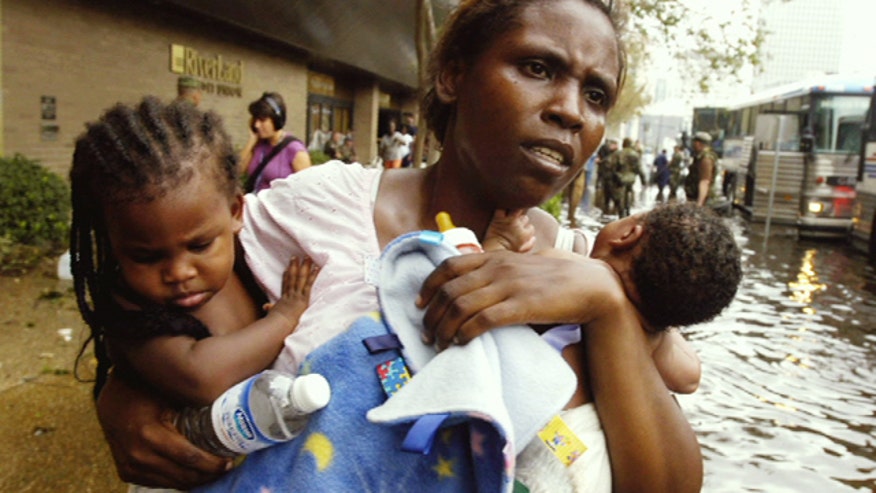 Hurricanes have flooded New Orleans before, but nothing like what happened on Aug. 29, 2005 when Hurricane Katrina made landfall, igniting a week of chaos, tragic deaths and shocking devastation.
"Fox News Reporting: Hurricane Katrina – The Storm of a Lifetime," which airs Friday, Aug. 21 at 10 p.m.ET, features a timeline of the events of Hurricane Katrina, stories from correspondents, residents and officials about the poor preparation, evacuation, and what went right and what went wrong.
Katrina became the most devastating hurricane to strike the U.S. in decades, causing 1,200 direct deaths in New Orleans and east along the Gulf of Mexico Coast. The storm also flooded 80 percent of New Orleans with water depths up to 20 feet after levees were breached.
While there were many heroic first responders, including the members of the U.S. Coast Guard who rescued over 33,400 people in New Orleans, critics said Mayor Ray Nagin and Louisiana Gov. Kathleen Blanco seemed unprepared for the disaster.
The Federal Emergency Management Agency (FEMA) and its director at the time, Michael Brown, took days to establish operations in New Orleans and many in the media were quick to blame him, as well as then-President George W. Bush, for what seemed like a slow response with relief efforts.
The Fox News special will also give an update on the costly rebuilding of the city's breached levees, the slow recovery of New Orleans itself and "lessons learned" from the tragic natural disaster.

Arthel Neville, who lost her home 10 years ago, told Fox News she couldn't even stand outside her home after Katrina hit because water had risen higher than her roof.
"Here we are a decade later, the sun is shining, and New Orleans is smiling once again," she said.