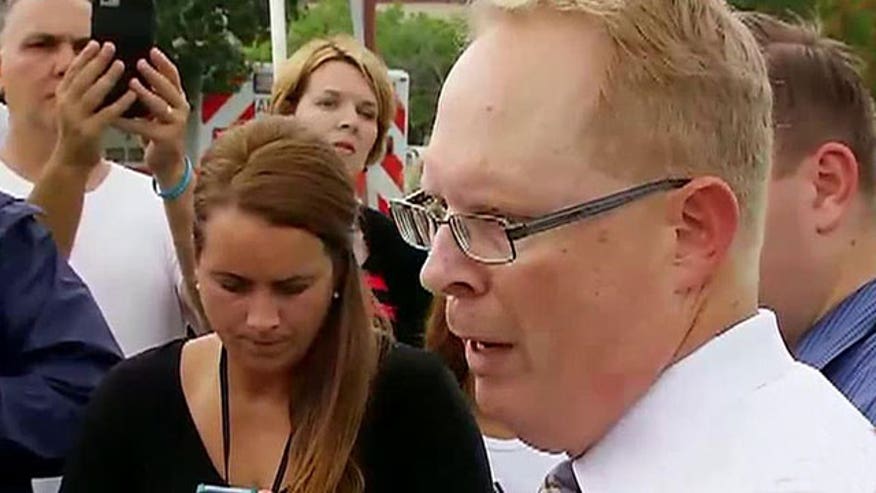 The man who caused panic when he unleashed a volley of pepper spray inside a Nashville movie theater Wednesday afternoon had "significant" psychological issues, authorities said.
Vincente David Montano, 29, was armed with a hatchet and an airsoft pistol in addition to the pepper spray, which he released during a showing of "Mad Max: Fury Road." He was also carrying two backpacks, one of which hung from his chest, and he wore a surgical mask, possibly to protect himself from the pepper spray.
Montano was shot at by a police officer and later killed by a SWAT team as he tried to escape out a back door of the theater.
On Thursday a police spokesman said Montano also had a canister of propane, lighter fluid and a lighter and may have intended on setting off an explosive device. Metro Nashville Police spokesman Don Aaron said he also made a gash on the canister of propane, rending it useless.
Aaron said Montano started his attack by pepper-spraying two women who were sitting in the theater. A man who was with them intervened and he was wounded by an ax that he was carrying. He originally had been thought to have a semi-automatic pistol when he fired at the responding officer.
"The gun is a very realistic looking gun that strongly resembles a semiautomatic pistol," Metro Nashville Police spokesman Don Aaron said Wednesday. "If someone confronted you with it, you would think it was a real pistol. Obviously an airsoft gun makes noise. When that initial officer who confronted him reported that the gun was aimed at him, the trigger was pulled, that officer heard noises. That's when the officer fired his weapon at the suspect in that initial confrontation."
About two dozen gunshots could be heard in a 10-second period in raw video footage posted online by WKRN. Aaron said that there were eight people in the movie theater at the time of the incident. Three were treated after being hit by the pepper spray. Fire department spokesman Brian Haas said one of the three also had a superficial wound that could have been caused by a hatchet. No one was taken to a hospital.
Aaron said at a news conference that Montano had "significant psychiatric or psychological issues" and had been committed four times for psychiatric treatment in 2004 and 2007. Aaron said Montano had been arrested in Murfreesboro, Tenn. in 2004 for assault and resisting arrest and that a fingerprint taken at the theater matched that from his arrest. Aaron also said Montano had been reported missing Monday.
According to The Tennessean newspaper, which cited a Murfreesboro missing person report, Montano's mother told police that her son had been diagnosed with paranoid schizophrenia in 2006. The woman told police she had not heard from her son since 2013 and said he "had a hard time taking care of himself." The paper said Montano was listed as "homeless" on the report.
"The only thing that I would like to say is that I'm eternally grateful to the Metro Police Department for their fast response today, and the fact that no one else got injured other than the person who did this," said the man who suffered the cut, who authorities identified as Steven.
"And I would also like to thank all the citizens who gathered around us, helped my daughter when we were pepper sprayed. That kind of gives me a little bit more faith in humanity again."
Steven added that he had "no idea why this gentleman decided to attack us."
One of Montano's two backpacks was detonated and then found to contain a fake bomb, Aaron said. He said investigators were going through a second backpack that Montano left at the theater.
The only person shot was Montano, whose motive was still unclear, Aaron said.
The entire event Wednesday transpired over less than an hour's time. Aaron said the first call came in about 1:13 p.m., and that two officers outside in the midst of a traffic stop responded within two minutes just as witnesses ran toward them. An officer came into the theater and was fired upon by the attacker, Aaron said. The officer shot back, then backed off but, Aaron said, the officer kept the gunman confined to a single theater in the complex.
Erick Vale, 32, an Uber driver, told The Tennessean newspaper that he was dropping off passengers in the theater's parking lot when he heard gunshots.
He described it as "utter chaos."
"I just couldn't believe this was happening again," he said.
Mattie Sanchez works at the Sprint store near the theater. She told The Associated Press by phone that a man who had two backpacks and fit the description of the attacker tried to enter a backdoor of the store about 11 a.m.
"One of our techs went to see what was going on and he was walking down the back of our store," said Sanchez, 28.
She said the man, who had dark hair and was wearing a yellow shirt, also walked in front of the store.
Sanchez said she later heard what sounded like "rapid fire" and saw the large police presence.
The theater complex sits in a commercial area in Antioch, a middle-class community in the southern part of Nashville. It's next to the Global Crossing mall, a past-its-prime shopping area recently upgraded with an ice rink developed by the Nashville Predators professional hockey team.
Metro Nashville Police Chief Steve Anderson said violence like Wednesday's shooting are likely to happen "anywhere we gather," then added: "This is maybe what we call the new normal. We can't say we're not going to theaters, we can't say we're not going to church. We carry on."
The latest shooting comes about two weeks after John Russell Houser killed two people and wounded nine others before fatally shooting himself during a screening of the movie "Trainwreck" at a theater in Lafayette, Louisiana.
The Associated Press contributed to this report.
Click for more from The Tennessean.