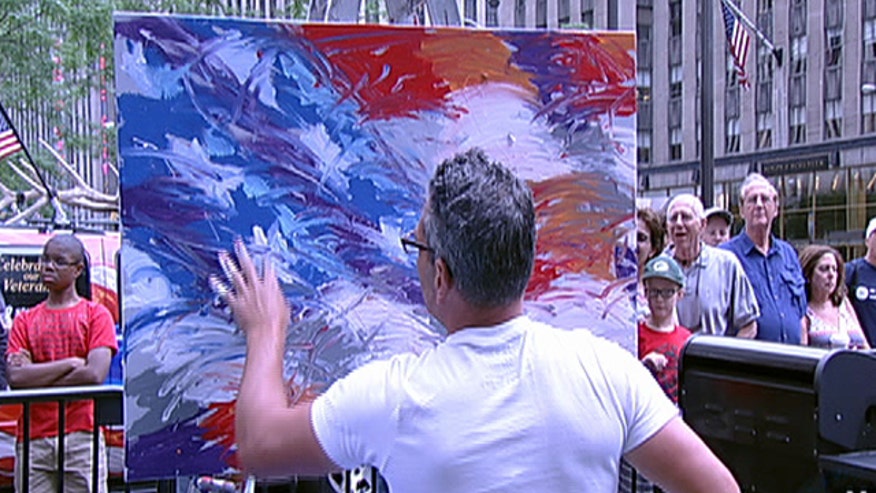 Americans across the country celebrated Fourth of July with parades, fireworks, naturalization ceremonies, eating contests and movies Saturday as the United States marked 239 years as an independent nation.
Though rainy weather swept through the region around the White House, forcing a cancellation of the annual July Fourth picnic for military members and their families on the South Lawn, many festivities in Washington proceeded as scheduled, including a fife and drum corps on the National Mall.
As morning rains cleared, the capital's Fourth of July parade kicked off. The parade featured marching bands, floats and balloons with plenty of red, white and blue.
The U.S. Air Force Band performs Saturday evening on the Washington Monument grounds. The big event is the "Capitol Fourth" concert on the west lawn of the Capitol, featuring Barry Manilow and the National Symphony Orchestra. President Barack Obama was scheduled to make brief remarks prior to fireworks.
In Michigan, a 15-year-old girl won the women's division of the 42nd annual cherry spitting contest. She spit a pit at 49 ¼ feet, farther than anyone in the contest.
"I just took a deep breath and pushed hard," said Megan Ankrapp of Buchanan. "I was shocked."
Kevin Bartz won the championship with a spit of 48 feet and 8 inches. Ankrapp was not allowed to participate in the overall championship round because her earlier spits were too short to qualify.
Bartz said he was excited to finally beat Brian Krause, the 2014 champ, but then realized a teenager had sent a pit farther than he did.
"I look up and say, 'Wait a minute. One of the girls beat me,'" said Bartz, 48. "It's not quite as exciting."
Naturalization ceremonies were held across the country. The director of the U.S. Citizenship and Immigration Services' Baltimore district administered the oath of allegiance to 40 people from 27 countries at The Engineers Club in Baltimore.
In Plymouth, Vermont, 20 people became U.S. citizens at the President Calvin Coolidge State Historic Site. The great-granddaughter of President and Mrs. Coolidge sang the national anthem.
Parades across Iowa and New Hampshire were clear reminders of the race for the White House: Red balloons promoting "Jeb! 2016," a tractor draped in a Rick Perry banner and dutiful volunteers holding signs and chanting.
Former Govs. Jeb Bush of Florida, Rick Perry of Texas and Lincoln Chafee of Rhode Island as well as South Carolina Sen. Lindsey Graham worked the crowd in Amherst, while Hillary Rodham Clinton marched in a parade in New Hampshire's North Country. New Jersey Gov. Chris Christie and Florida Sen. Marco Rubio spent the holiday in New Hampshire's Lakes Region, as Louisiana Gov. Bobby Jindal, Vermont Sen. Bernie Sanders and former Maryland Gov. Martin O'Malley met voters in Iowa.
The Oregon suburban town of Hillsboro held a Fourth of July parade Saturday afternoon that featured 135 entries ranging from fire trucks to marching bands.
"It's our favorite holiday," said Hope Sarafa as she watched the parade with her family Ashley Clare, 6, Alexa, 3, her twin sister Christina, 3, and husband Jeff.
Matt Stonie devoured 62 wieners and buns in 10 minutes to upset Joey "Jaws" Chestnut in the annual hot dog eating contest at Nathan's Famous in Coney Island, breaking Chestnut's bid for a ninth straight victory.
Stonie beat Chestnut by two wieners. Both are from San Jose, California. The third-place finisher ate 35 hot dogs.
Defending champion Miki Sudo won the women's division by devouring 38 wieners and buns in 10 minutes. She downed four more hot dogs than last year and bested Sonya "Black Widow" Thomas of Alexandria, Virginia, who ate 31 wieners.
A pilot who delivered candy to children in Berlin at the end of World War II parachuted sweets down to Orem, Utah, to celebrate Independence Day.
Gail Halvorsen, 94, also known as the "Candy Bomber," dropped 1,000 chocolate bars attached to tiny parachutes at Scera Park on Friday. He flew over the area three times before releasing the cargo into the hands of the children below.
Deb Jackson, co-chair of the event, estimated more than 50,000 people stood in 100-degree Fahrenheit temperatures to watch the 4 p.m. drop.
Halvorsen flew in a fixed-wing bomber from World War II with two escort planes attending, the Daily Herald of Provo reported.
Visitors to the National Archives building in Washington were invited to sign replicas of the Declaration of Independence.
Some signed with a quill pen while others used modern writing instruments.
The National Archives — which houses the Declaration of Independence, Constitution and Bill of Rights — also hosted a reading of the Declaration of Independence by re-enactors portraying Abigail Adams, John Adams, Benjamin Franklin, John Hancock, Thomas Jefferson, and George Washington.
The Associated Press contributed to this report