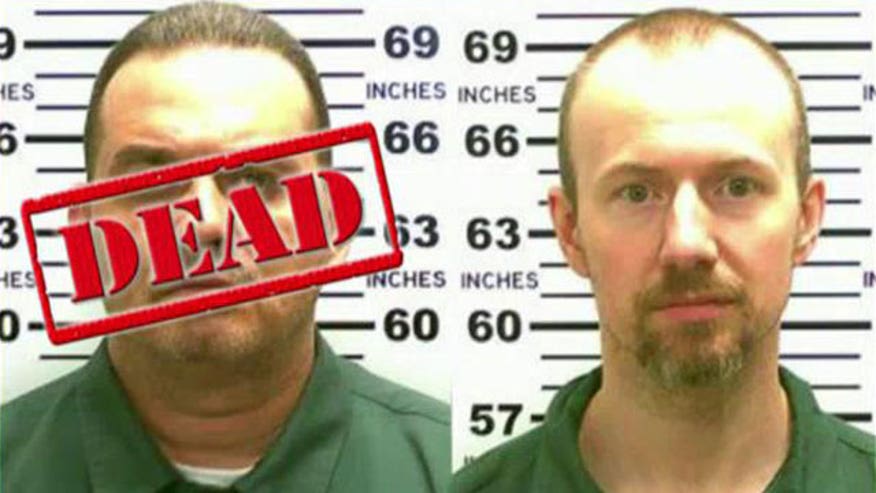 Richard Matt, one of two New York prison escapees, was shot and killed by law enforcement officers Friday in a heavily wooded area in the northwest part of the state and police could be closing in on his accomplice.
A source told Fox News that officers had surrounded "a fairly small area" where they believe David Sweat is hiding.
However, Governor Andrew Cuomo told a late night press conference, "there is nothing to confirm where Sweat is at this time."
State Police Superintendent Joseph D'Amico told reporters the first clue to Matt's locale came when a driver towing a camper thought he heard shots fired at the vehicle and when he managed to pull off the road, about eight miles away, he discovered a bullet hole in the camper and called police.
Officers responding to what was believed to be the scene of the shooting entered a cabin and smelled gunpowder. A tactical team was immediately deployed into the nearby woods.
D'Amico said the team encountered Matt there and "told him to put up his hands and he was shot when he didn't comply."
He also said a 20 gauge shotgun was recovered from Matt's body but that Matt fired no shots in the encounter.
One source told Fox News Matt was shot and killed by Customs Border Protection agents from the Department of Homeland Security.
Cuomo said there was no reason not to believe Sweat was with Matt but there was no confirmation of it either.
He described the pair as "dangerous, dangerous men."
The location where Matt, 49, was shot is in a remote area of Franklin County, N.Y. about 40 miles west of the Clinton Correctional Facility in Dannemora, where the pair staged a brazen breakout June 6.
Since then they had eluded a massive manhunt involving 1,100 law enforcement personnel.
Matt and Sweat used power tools to saw through a steel cell wall and several steel steam pipes, bashed a hole through a 2-foot-thick brick wall, and squirmed through pipes to escape.
Sweat was serving a sentence of life without parole in the killing of a sheriff's deputy in Broome County in 2002. Matt was serving 25 years to life for the killing and dismembering of his former boss.
A civilian worker at the prison has been charged with helping the killers flee by giving them hacksaw blades, chisels and other tools.
Prosecutors said Joyce Mitchell, a prison tailoring shop instructor who got close to the men while working with them, had agreed to be their getaway driver but backed out because she felt guilty for participating. Mitchell pleaded not guilty June 15 to charges including felony promoting prison contraband.
Authorities said the men had filled their beds in their adjacent cells with clothes to make it appear they were sleeping when guards made overnight rounds. On a cut steam pipe, the prisoners left a taunting note containing a crude caricature of an Asian face and the words "Have a nice day."
Clinton County District Attorney Andrew Wylie said they apparently used tools stored by prison contractors, taking care to return them to their toolboxes after each night's work.
On June 24, authorities charged Clinton correction officer Gene Palmer with promoting prison contraband, tampering with physical evidence and official misconduct. Officials said he gave the two prisoners the frozen hamburger meat Joyce Mitchell had used to hide the tools she smuggled to Sweat and Matt. Palmer's attorney said he had no knowledge that the meat contained hacksaw blades, a bit and a screwdriver.
Dannemora, built in 1845, occupies just over 1 square mile within the northern reaches of the Adirondack Forest Preserve and is surrounded by forest and farmland. The stark white perimeter wall of the prison, topped with guard towers, borders a main street in the village's business district.
The escape was the first in history from Clinton Correctional's maximum-security portion. In July 2003, two convicted murderers used tools from a carpentry shop at Elmira Correctional Facility to dig a hole in the roof of their cell and a rope of bedsheets to go over the wall. They were captured within three days, and a subsequent state investigation cited lax inmate supervision, poor tool control and incomplete cell searches.
Fox News' Rick Leventhal, Matt Dean and Ron Ralston and The Associated Press contributed to this report