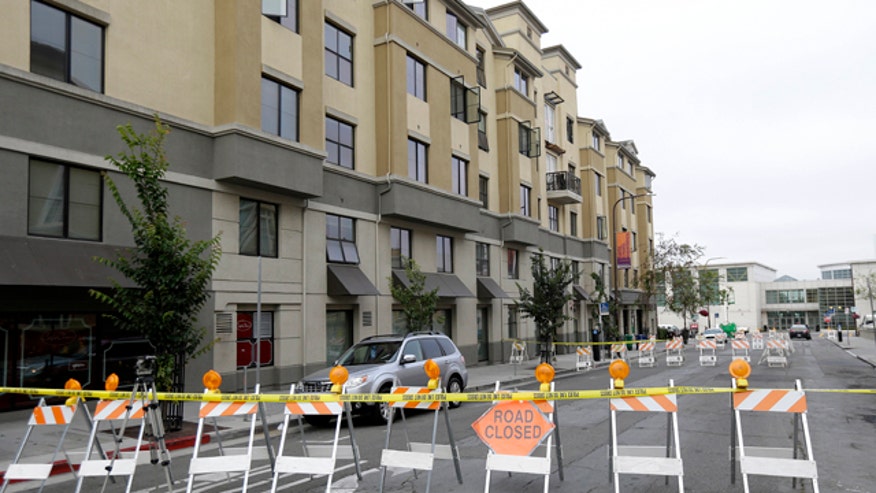 The balcony that collapsed in Berkeley, Calif. killing five Irish students and an American appears to have been caused by rotted wooden beams, Berkeley's mayor said Wednesday.
Mayor Tom Bates said investigators believe the wood was not sealed properly at the time of construction and was damaged by moisture as a result. He said that appears to be the prime cause of the tragedy early Tuesday.
"More than likely, it was caused by rain and water damage that was caused to the support beams," Bates said.
The San Francisco Chronicle reported Wednesday that a former member of the Berkeley Design Review Committee, which approved the project in 2001, said the balcony was not designed to support a large group of people and "was meant just to be a place where someone could stand out for a bit, get a breath of fresh air. Not for something like 13 people."
There were 13 people on the balcony when the 5th-floor balcony collapsed. The group was celebrating a 21st birthday party.
Police had received a complaint about a loud party in the apartment about an hour before the mishap but were still on a different call when the metal-rail balcony gave way just after 12:30 a.m. It landed on the 4th-floor balcony just beneath it, leaving the pavement strewn with rubble and the red plastic cups that are standard at college parties.
Grace Kang, a structural engineer and spokeswoman for Pacific Earthquake Engineering Research Center at Berkeley, said the balcony's dimensions looked to her to be 4 feet by 6 feet, or 24 square feet.
That would mean the balcony should hold at least 1,440 pounds, a total that likely would have been exceeded by 13 adults. "They were packed like sardines, and then they were moving," she said. When people are moving it "may further exacerbate" the strain.
The dead were identified as Ashley Donohoe, 22, of Rohnert Park, Calif., and Ireland's Olivia Burke, Eoghan Culligan, Niccolai Schuster, Lorcan Miller and Eimear Walsh. The Irish students attended various colleges in Dublin.
The San Francisco Bay area is especially popular with Irish students, about 700 of whom are working and playing here this summer, according to Ireland's Philip Grant. Many work at Fisherman's Wharf and other tourist sites.
Berkeley officials said the building code at the time of construction required the balcony hold at least 60 pounds per square foot. That requirement has since been raised to 100 pounds.
Berkeley building inspectors also determined another balcony at the apartment building was "structurally unsafe and presented a collapse hazard," and it ordered it demolished. Two other balconies were red-tagged, or declared off-limits.
Berkeley spokesman Matthai Chakko said officials have not measured the balcony to find out how big it was and how much weight it was built to bear based on the 60-pound per square foot standard in place when the building went up. Chakko also said there is no city requirement to post a weight restriction for balconies in apartments.
The Library Gardens apartments, completed in 2007, is in a lively part of downtown Berkeley. Several tenants reached by telephone said it is well-maintained.
In statements, building owner BlackRock and manager Greystar extended condolences to the victims' families and said safety was a priority.
Across the Atlantic, flags flew at half-staff around Ireland and the country's parliament suspended normal business as the nation mourned the dead: Ashley Donohoe, 22, of Rohnert Park, California, and Olivia Burke, Eoghan Culligan, Niccolai Schuster, Lorcan Miller and Eimear Walsh, all 21-year-olds from Ireland.
"They were in the prime of their lives," said Bernadette Prendiville, principal of the high school from which Burke and Walsh graduated. "They had a successful time in school, went about their work quietly and had everything going for them, everything ahead of them."
A Mass was planned for Wednesday evening in Oakland for the victims.
The Associated Press contributed to this report