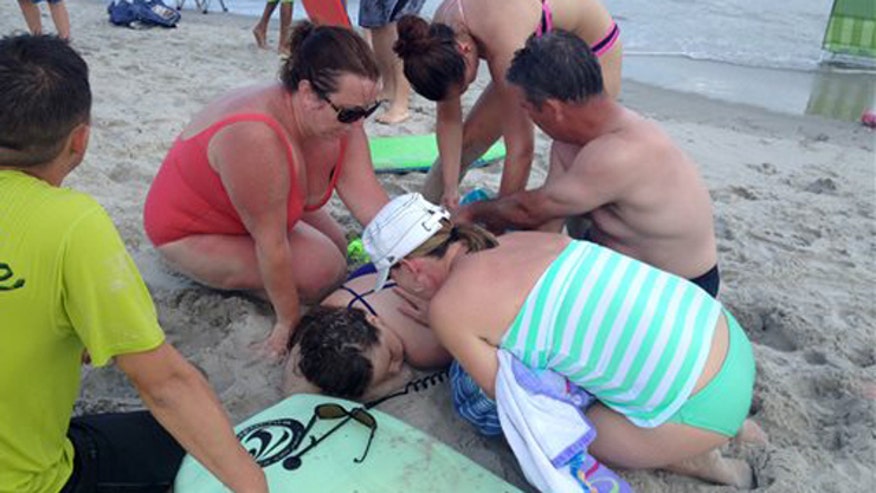 Beachgoers on Monday described a frightening and grisly scene from the day before in North Carolina, where a shark "came out of the water like you snap your fingers" in one of two attacks that left a pair if young vacationers amputees before authorities could clear the waters.
"Oak Island is still a safe place. We're monitoring the situation. This is highly unusual."

- Tim Holloman, Oak Island town manager
A 12-year-old girl visiting from Asheboro, N.C., was the first victim, at Oak Island near the Ocean Crest Fishing Pier. The girl, who was not identified, lost part of her left arm and was in danger of losing her left leg in the attack, which occurred at about 4:40 p.m., officials said Sunday. A little more than an hour later, at 5:51, medics responded to a second attack about two miles away, this time on a 16-year-old boy, visiting from Colorado Springs, Colo., who lost his left arm. Both victims were in fair condition Monday at a Wilmington hospital.
"He looked like he was waving at his friends," Randy Milligan told ABC News of the unidentified 16-year-old boy who was attacked. "Then the shark just came out of the water and like you snap your fingers -- bit his whole arm off."
Both victims were in waist-deep water, about 20 yards from shore when they were attacked. The town of Oak Island, where another girl was badly bitten last week, is about 25 miles southwest of Wilmington.
The beaches were open on Monday, but officials were encouraging people to stay in shallow water as boats and a helicopter patrolled the water, Oak Island town manager Tim Holloman said. Authorities don't know what species the shark or sharks are, or where they are now.
"We spotted one shark that was estimated over 7 feet long between the locations of the two bites earlier, and then we spotted another one off, down a little further south, about the same size," Brunswick County Sheriff John Ingram said at a news conference early Monday.
Oak Island Fire Chief Chris Anselmo said today that they have no way of knowing whether one or multiple sharks was responsible for the twin attacks on Sunday afternoon.
Dr. Borden Hooks confirmed Monday afternoon that the boy's left arm was amputated above the elbow.
"I would imagine to inflict that kind of damage it must be a relatively large shark," Hooks said.
Questions quickly arose over why swimmers were allowed to remain in the surf after the first attack, but Oak Island Mayor Betty Wallace told the Wilmington Star-News the second attack "happened so quickly" that there was little time to send out an alert.
"Our local police ATVs and the sheriff's boat and helicopter patrolled immediately after the second one, getting everyone out of the water," Wallace said in an e-mail to The Associated Press.
Wallace said even if the beach had closed after the first attack, the order might not have covered swimmers farther up the beach.
"I don't know if it would have extended between the two (locations)," she wrote.
"Oak Island is still a safe place," Holloman said, noting that Brunswick County's boat, Marine One, and helicopter, Air One, will be in the area, according to the Wilmington Star-News. "We're monitoring the situation. This is highly unusual."
Brian Watts, Brunswick County's emergency management director, told the newspaper Sunday that both victims were out of surgery.
Both attacks happened near the Ocean Crest Fishing Pier, a popular destination among beachgoers, Fox 8 reports, and bait in the water could have attracted the sharks.
George Burgess, director of the Florida Program for Shark Research at the University of Florida's Florida Museum of Natural History, told the Wilmington Star-News that sharks seen along Carolina coasts are blacktip and spinner sharks, about 6 to 7 feet long.
He added that the sharks do bite people in "mistaken identity situations," in which the sharks think a human's splashing arms or legs are activities of normal prey.
Brunswick County Dispatchers said they received the call at 4:12 p.m. and several agencies responded to the scene, including Oak Island Police. The second incident was reported at 5:30 p.m. Sunday.
The Oak Island town manager sent an ATV to get everyone out of the water, the mayor said. The Brunswick County Sheriff's office sent a helicopter up and down the coast to patrol.
Steve Bouser and his wife were at the beach, and just beginning a week's long vacation, when he said people began yelling, "Come in! Get out of the water! Get out of the water!
"I saw someone carry this girl (out of the water) and people were swarming around and trying to help," he told The Associated Press Sunday evening. "It was quite terrible."
Bouser said there was a lot of blood and people were trying to apply makeshift tourniquets to stop the bleeding. He added that people were asking her questions to try to keep her conscious.
"You've got this nice beach scene going on, and the next moment is just a nightmare," Bouser told the Wilmington Star-News.
"It was so much like a scene from Jaws," his wife Brenda added.
The two attacks came days after a 13-year-old girl was bitten by a shark on the same beach. In the Thursday attack, the girl, who was riding a boogie board, suffered lacerations on her foot and was treated at a local hospital.
The Associated Press contributed to this report.
Click for more from the Star-News.