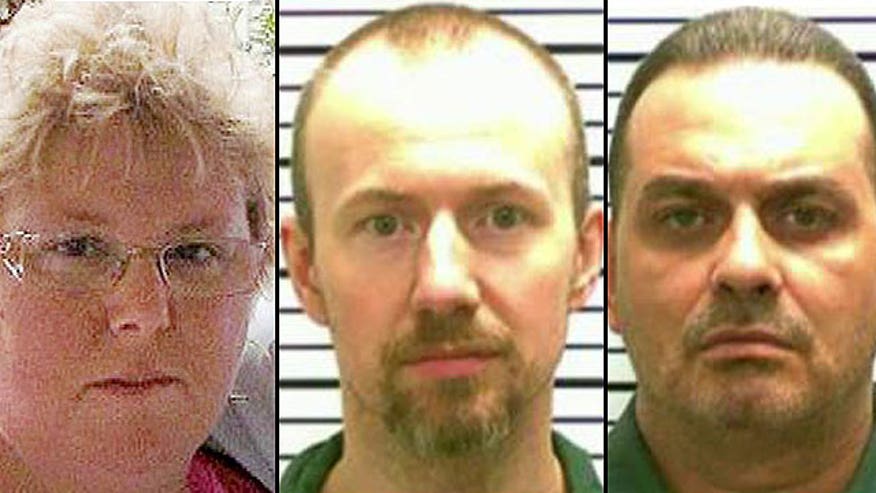 New details about the meticulously planned upstate New York prison break reveal the pair of fugitive murderers expected to be 7 hours away from the Clinton Correctional Facility quickly after tunneling under its imposing outer wall.
Joyce Mitchell, the prison seamstress who has been suspended and now charged with aiding the escape of inmates Richard Matt and David Sweat, has been explaining how the plot was supposed to unfold to authorities.
"She was going to meet them at the power house," Clinton County District Attorney Andrew Wylie tells FOX News, referring to the nearby power plant that is in view of the maximum-security facility. "They were going to pop out of the manhole, they were going to take off, and the three of them would be, you know, leaving the area."
We don't know, and Mitchell has apparently not shared, specific details about the next stop on the newly freed inmates itinerary. Just that it was far away.
"They were planning on driving approximately seven hours away in a wooded area where her vehicle would be needed -- a four-wheel-drive jeep," Wylie says.
A big surprise for Wylie so far has been the lack of positive leads, in a search that costs $1 million a day. But he says that briefings with agencies leading the search have suggested that unless and until traces of Sweat or Matt turn up elsewhere, full efforts here will continue.
As for other accomplices, it doesn't appear Mitchell's husband Lyle is thought to know much.
In fact, Wylie downplays intrigue surrounding the husband, and says that, "Based on the circumstances that we know, it doesn't seem probable that he was involved or was going to be involved in the escape."
"Why would you be involved in an escape where your wife is going to be leaving you with these two convicted felons?"
Peter Doocy is currently a Washington D.C.-based correspondent for FOX News Channel (FNC). He joined the network in 2009 as a general assignment reporter based in the New York bureau.