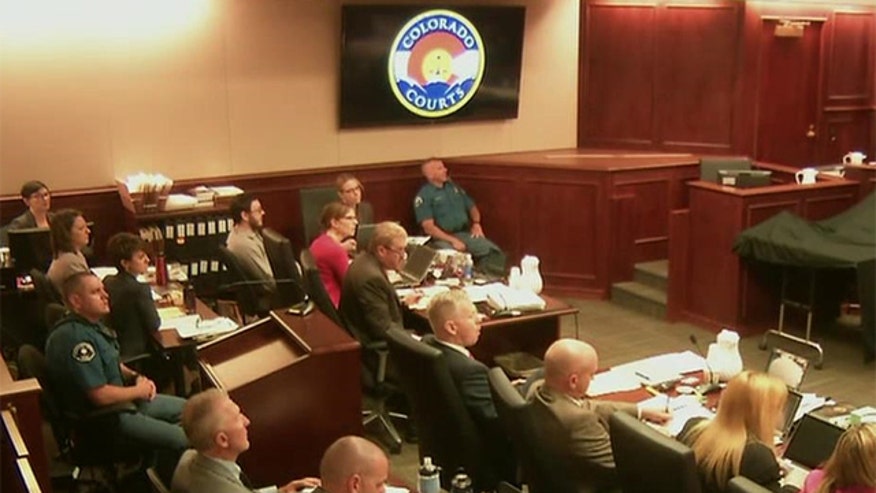 The murder trial of Aurora, Colo., movie theater shooter James Holmes was thrown into disarray Tuesday, when the judge dismissed three jurors after being told one had discussed news accounts of the case with other members of the panel – a development that could lead to a mistrial.
The jurors, who are only identified by numbers after being selected form a record pool of more than 9,000 candidates, are forbidden from discussing reports on the case. Holmes is on trial for murder in the July 20, 2012 attack at a midnight showing of the Batman movie "The Dark Knight Rises," in which 12 people were killed and 70 injured.
Judge Carlos Samour Jr. asked the juror who reported the discussion if she took "any action" based on what she had heard. The juror said she did not, and claimed she can still serve impartially.
"Honestly I'm not curious at all I just feel really bad," she said.
Samour told attorneys that he found Juror No. 673's account to be credible and that Juror No. 872 appeared to have violated his orders. Samour called a 20-minute break, then dismissed Jurors 872, 412 and 495 — and was hearing arguments about other jurors.
The juror suspected of violating the judge's order allegedly discussed the possibility of a mistrial and said on Monday that one of the attorneys had been reprimanded for tweeting in the courtroom.
Samour has told jurors that they may not discuss the case with anyone until deliberations begin.
Last week, District Attorney George Brauchler was scolded by the judge after he sent a tweet from the courtroom that said, "I agree on the video. I hope the jury think so, too."
Holmes' attorneys do not deny that the California native burst into the Century 16 theater dressed in black body armor and a gas mask, first setting off tear gas grenades and then firing into the audience with an arsenal that included a 12-gauge shotgun, a semi-automatic rifle and a Glock 22 40-caliber handgun.
Minutes later, Holmes was found by police next to his car which was parked behind the cinema. Holmes pleaded not guilty by reason of insanity to all 166 murder, attempted murder and other charges in the attack. His attorneys maintain he was "in the throes of a psychotic episode when he committed the acts," but prosecutors said the crime was so intentionally heinous it deserves the death penalty. Two court-ordered psychiatric exams that could determine the verdict were withheld from the public.
Holmes' downward spiral prior to the shooting is well-documented. His graduate studies in neuroscience had fallen apart, and he had told a classmate he wanted to kill people, prosecutors say. He had stopped seeing his psychiatrist, then sent her text messages so threatening that she alerted University of Colorado campus police. He even mailed her his journal, in a package with burned $20 bills.
In his apartment, which police found booby-trapped with explosives, he stockpiled weapons, more than 6,000 rounds of ammunition, tear gas grenades and riot gear.
Samour, a former prosecutor who became a state district court judge in 2007 after working as a private defense attorney, is a native of El Salvador. He took over the case in March, 2013, after the prosecution's decision to seek the death penalty prompted Chief Judge William Sylvester to step down, saying a capital case would take up too much of his time and affect his administrative duties.
Holmes faces the death penalty if convicted.