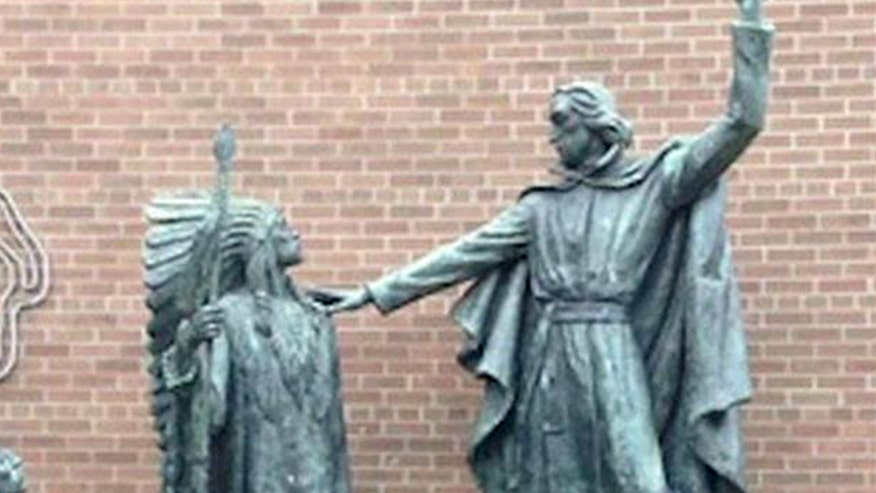 A statue that stood for years on the St. Louis University campus has been moved from its prominent place outside a key building after complaints it evoked "Christian and white supremacy."
"The statue of De Smet depicts a history of colonialism, imperialism, racism and of Christian and white supremacy."

- Ryan McKinley, St. Louis University student
The metal statue, which depicts Jesuit missionary Pierre-Jean De Smet praying over two American Indians dressed in traditional clothing, stood for years outside the university's Fusz Hall in the center of the private Catholic school. But it was moved to the university's art museum after a student-written editorial in the school paper declared it offensive, according to The College Fix.
"The statue of De Smet depicts a history of colonialism, imperialism, racism and of Christian and white supremacy," Ryan McKinley wrote in an editorial in the school paper, The University News. "This statue of De Smet is the clearest message that this university sends regarding American Indians, past and present. This message to American Indians is simple: "You do not belong here if you do not submit to our culture and our religion."
Although it was not the first time students or faculty complained about the statue, the school's first-year president, Fred Pestello, told students in March he was taking the complaints seriously. SLU spokesman Clayton Berry said the school is not getting rid of the statue, but simply putting it in a location where it can be lent historical context.
"It will be housed in the "Collection of the Western Jesuit Missions," Berry told FoxNews.com. "This permanent display, which takes up an entire floor of the museum, focuses on the Jesuit missionaries of the 1800s."
English professor Steven Casmier told The College Fix he understood the objections, but was unsure if taking down the statue was the right move.
"I am not one for pulling down statues or effacing the evidence of history – even if that history is one we would like to forget," he said. "But it's good that it's not entirely effacing the past, and perhaps [the museum is] as good a place as any for it."
McKinley said his editorial played a part in a larger process.
"This effort has been a years-long process by many different parties through students and staff," SLU student, Ryan McKinley, told Fox News
As for De Smet, he might not have been such a bad guy.
A link on SLU's website said De Smet, "known simply and affectionately as 'Blackrobe' by the Indians, ... traveled more that 180,000 miles during his lifetime, bringing Catholic Christianity to literally thousands of Native Americans while at the same time learning a great deal from the spirituality of the Indians." That description has since been removed, although Berry told FoxNews.com that decision was made independent of the statue complaints.
"It's purely coincidence," Berry said. "The new timeline is more streamlined and focuses on the University history."
Matt Finn is a Fox News correspondent based in the Chicago bureau. Follow him on Twitter: @MattFinnFNC