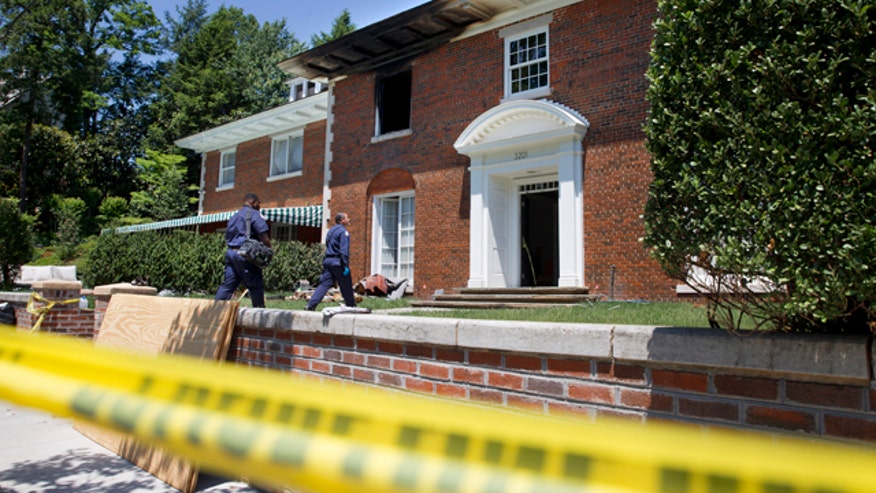 The lawyer visiting the man accused in the Washington, D.C., murders of a wealthy couple, their son and the family's housekeeper said Saturday that the suspect could not be the killer because he hates pizza, ABC News reported.
Robin Ficker told the station that Daron Wint, who was arrested this month in the quadruple homicide when his DNA was found on pizza at the crime scene, could not be guilty because, "He doesn't eat pizza. If he were hungry, he wouldn't order pizza."
Ficker, who has previously represented Wint, has not yet been retained as his attorney in the current homicide arrest.
"If he were hungry, he wouldn't order pizza."

- Robin Ficker
Wint, 34, remains the only person who has been charged in connection with the deaths of 46-year-old corporate executive Savvas Savopoulos, his wife Amy, their 10-year-old son Philip, and housekeeper Veralicia Figueroa. All four were found dead in the burning Savopoulos family home in northwest Washington on the afternoon of May 14 after being held for at least 18 hours prior to their deaths.
Police and prosecutors believe that Wint had help from others in holding the Savopouloses captive, but no other suspects have been identified.
Questions also remain regarding $40,000 in cash delivered to the Savopoulos home before it was set on fire.
An employee referred to as "W-1," Savopoulos' driver tasked with handling "daily assignments" for him, made the money drop, according to a criminal complaint cited by ABC News.
When first interviewed, W-1 told police Savopoulos called him to deliver a package the day of the fire. Later, however, W-1 said Savopoulos sent him those instructions by text the day before.
W-1 "admitted that [he] lied" when he told police the car where the money was to be dropped was locked, police said, according to the report.
W-1 has neither been arrested, nor charged with a crime.
During their ordeal, Savvas Savopoulos and his wife told others to stay away -- even ordering a pizza deliverer to leave two pies at the door -- as they frantically arranged for the $40,000 in cash to be dropped off at the home.
But once the money was left on the seat of a sports car in the family's garage, authorities say Wint struck and stabbed Savvas Savopoulos, the CEO of the American Iron Works company where Wint had once worked as a welder, according to a charging document.
Authorities said the three other victims also were killed before the house was set on fire with matches and a flammable liquid.
Wint is due in court on June 22.
The Associated Press contributed to this report.