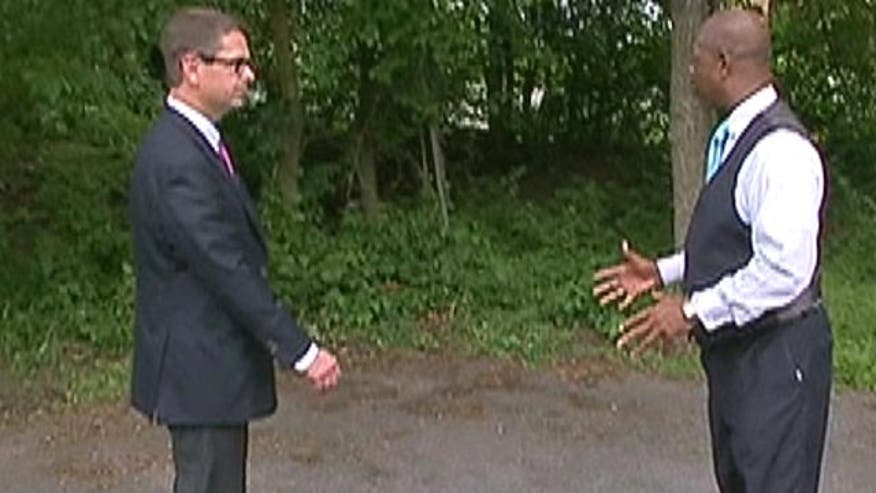 A package containing $40,000 in cash was reportedly delivered to the Washington, D.C., mansion of an executive who was found murdered along with his wife, son and a housekeeper in the burning home just blocks from Vice President Joe Biden's residence.
The cash, reportedly to fund the opening of a martial arts center in Chantilly, Va., is the latest potential clue in the grisly mystery involving the deaths of Savvas Savopoulos, 46, his wife, Amy Savopoulos, 47; their 10-year-old son Philip and a housekeeper, Veralicia Figueroa, 57. Authorities declined to confirm the report, but Nelitza Gutierrez, the family's longtime housekeeper who was not working the day of the murders, told Fox affiliate WTTG the money was scheduled for delivery on May 14. Authorities believe the family and Figeueroa may have been held for several hours before they were killed.
The couple and Figueroa were all found dead in chairs, doused with gasoline after having sustained multiple stab wounds, sources close to the investigation told the station. The couple's son, 10-year-old Philip Savopoulos, was found in his bed burned beyond recognition and with lacerations to his body. Detectives told WUSA the boy may have been tortured by his killers in an attempt to get money out of his father.
Gutierrez, the family's housekeeper of 20 years, said an assistant was scheduled to drop off $40,000 in cash to the home Thursday to be used for the opening of a martial arts center in Chantilly, Va. Gutierrez claims she spoke with the unnamed assistant who confirmed the money was delivered Thursday morning to the $5 million mansion on Woodland Drive near the National Cathedral.
Police have not commented on Gutierrez's claim, citing an ongoing investigation. They also would not confirm whether the FBI was assisting with the case.
Gutierrez said Savvas Savopoulos left her a voicemail Wednesday night, saying she should not come in Thursday to work because his wife was sick.
In the message, Savopoulos said Figueroa, another housekeeper, had offered to stay the night to help the family. He asked Gutierrez to notify Figueroa's relatives to let them know she would be doing so.
The next morning, Amy Savopoulos reportedly texted Gutierrez and confirmed her sickness, saying she should not visit.
Three hours later, at approximately 1:30 p.m., the mansion the couple lived in was engulfed in flames.
Gutierrez said she did not listen to Savopoulos' voicemail until Thursday morning. Figueroa's husband, meanwhile, knocked on the front door of the family's home Thursday morning, looking for his wife after she did not return home Wednesday night. Shortly after, Savvas Savopoulos called the man and told him that his wife and Figueroa were at the hospital and then hung up, according to WTTG.
While no signs of forced entry were detected at the home, law enforcement sources said they believe the family was taken hostage inside their home Wednesday evening. Once the killer or killers were given what they demanded, the family and Figueroa were killed Thursday and the home set on fire.
The killers may have ordered pizza during the home invasion. A clerk at a nearby Domino's Pizza told FoxNews.com that a delivery was made to the couple's address Wednesday evening. He declined to comment further.
Savopoulos's blue 2008 Porsche 911 was found on fire and abandoned in a church parking lot in New Carrollton, Md., in Prince George's County at around 5 p.m. Thursday.
Investigators have not identified any suspects, but released surveillance video of a person of interest. The footage shows a man who police believe may have been driving the Porshe with D.C. license plate DK2418.
Washington, D.C., Police Chief Cathy Lanier announced a $25,000 reward for information leading to an arrest in the murders.
Click for more from MyFoxDC.com
FoxNews.com's Cristina Corbin contributed to this report.