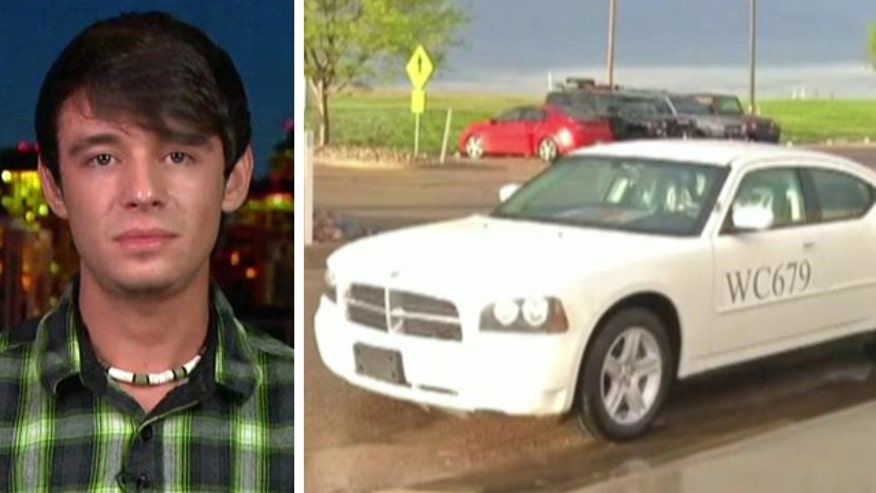 The son of a Colorado deputy killed in the line of duty owns his father's patrol car thanks to rancher with a heart of gold.
Tanner Brownlee was quickly outbid when his father's beat-up Dodge Charger was put up for auction Wednesday in Greeley, Colo.
"I was sitting there. I had a set amount that I was gonna do," Brownlee told Fox & Friends Saturday. "As soon as it went past that, I was…I just kind of gave up hope."
Brownlee watched local rancher Steve Wells purchase the vehicle with a whopping $60,000 bid, five times the car's book value.
Then Wells did something incredible, Denver ABC reported.
Wells said, "Tanner, here's your car," and gave him the keys.
"I couldn't even find words," Brownlee said on Fox & Friends. "As soon as he handed me the keys I shut down and I couldn't believe it.
"I got up. I shook his hand. I hugged him. I was just crying. I couldn't find words to express it."
Brownlee was 15 when his father was killed in 2010 after he and other officers pursued a suspected car thief into a subdivision after a high-speed chase. During the struggle the suspect grabbed Brownlee's gun and shot the deputy three times, the Denver Post reported in 2011. Another deputy shot Brownlee's killer.
Sam Brownlee was the first member of the Weld County Sheriff's Office to die on the job in 70 years.
Brownlee and his colleagues put a lot of hard miles on the Charger. It had 147,000 on the odometer when it went up for auction. It was being sold to raise money for C.O.P.S., a fund for widows and orphans of law enforcement officers killed in the line of duty.
Tanner Brownlee started an online fundraising page to bid on the vehicle. He raised $3,000, hoping that would be enough. It wasn't even close.
Wells turned out to be a man of few words after his good deed.
As he watched Brownlee get behind the wheel of the car, he declined an interview request saying he didn't want to take away from the moment.
Brownlee said he and his brother Chase are going to use their father's vehicle as a "cruising car."
"I'm so excited," he said. "I'm going to try to keep up on that car, keep it as long as I can."