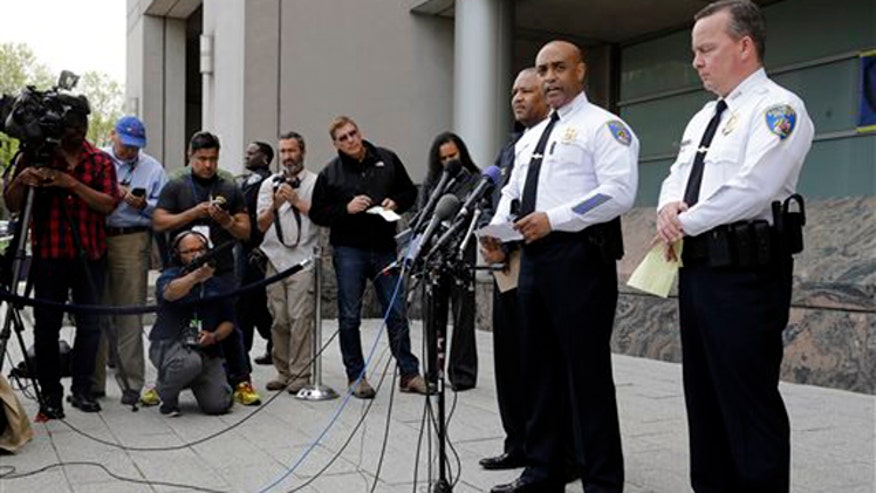 Thousands of people arrested by Baltimore police over the past three years have been turned away from the city's jail because their injuries are too severe, according to a new report.
The Baltimore Sun, citing records dating back to June 2012, reported Sunday that corrections officers refused to admit over 2,600 detainees to the state-run Baltimore City Detention Center. The records showed that 123 of the detainees who weren't admitted to jail had visible head injuries, the third-most common ailment cited by jail officials. Others had broken bones, facial trauma and high blood pressure.
The records do not indicate how the people were injured or whether they suffered their injuries while in custody. However, they do suggest that police officers either ignored or did not notice the injuries. Suspects are constitutionally guaranteed health care before they are booked into jail.
Police did not comment to The Sun, and department spokespeople did not immediately return messages left by The Associated Press on Sunday.
The report comes as the city's police department is under intense scrutiny for their treatment of detainees following the death of Freddie Gray last month. Gray died of a broken neck that prosecutors said he suffered while riding in a Baltimore police van, and six officers involved in Gray's arrest are facing criminal charges, including one charged with second-degree murder. Gray's death sparked rioting and widespread protests in the city and came amid national controversy over how police officers treat suspects, particularly black men.
On Friday, the Justice Department announced that it is conducting a civil-rights investigation of Baltimore police.
Critics of the police tell the Sun that the figures indicate that Baltimore police officers don't care about the condition of detainees after they are arrested. Others, including criminologists and law enforcement experts, say that officers are not adequately trained to detect injuries or whether a detainee is faking being hurt in an effort to avoid jail.
In the Gray case, prosecutors claimed that Gray requested medical care five times before his death.
The Sun has previously reported that dozens of Baltimore residents have accused the city's police of inflicting injuries on them and disregarding their requests for medical help. The paper reported in September 2014 that the city has paid out almost $6 million in court judgments and settlements in response to over 100 lawsuits filed since 2011.
The Associated Press contributed to this report.
Click for more from The Baltimore Sun.