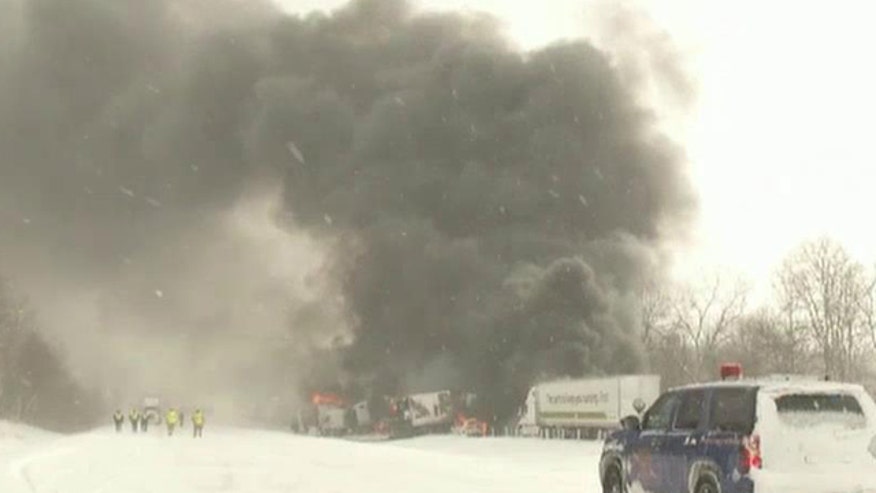 At least one person was killed in a 123-vehicle pileup along a snowy Michigan highway on Friday that also triggered an explosion on a vehicle carrying fireworks, police said.
Snow, wind and poor visibility were blamed for the chain reaction of crashes on both sides of Interstate 94 in Kalamazoo County, 150 miles east of Chicago. The interstate wasn't expected to reopen until late Friday or Saturday.
"As you can imagine, it's not easy to count vehicles as they pile up," said Michigan State Police Lt. Rick Pazder, who pegged the number of cars at 123.
The Michigan State Police said several others were injured in the pileup that occurred just before 10 a.m. in severe snow conditions along I-94 near Galesburg, Fox affiliate WJBK-TV reported.
Authorities said four semi trucks and two cars caught on fire. A three-mile radius was briefly evacuated due to a burning semi truck containing hazardous material. Another burning semi truck was carrying around 40 pounds of fireworks, the station reported.
Emergency responders and police are at the scene assisting drivers stranded in their vehicles.
Snow and ice-covered roads are blamed for numerous crashes around Michigan Friday and many schools across the state are closed. Another pileup involving 40 vehicles was reported outside of Ann Arbor along US-23.
John Rudolph, a truck driver from Ypsilanti who travels Michigan roads often, told the station Friday's weather conditions are "some of the worst" he has seen.
Interstate-94 was closed in both directions in Kalamazoo County, WJBK reported. The crash occurred outside of Galesburg, which is between Battle Creek and Kalamazoo.
Click for more from MyFoxDetroit.com
The Associated Press contributed to this report.