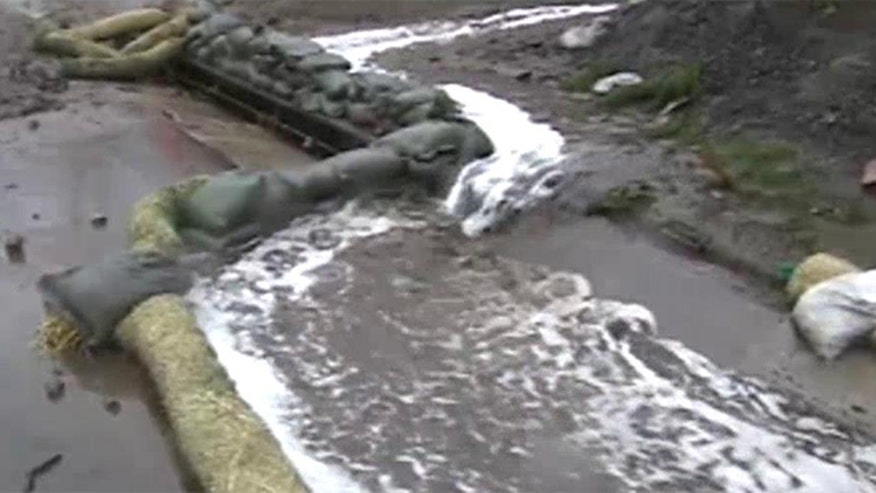 Heavy downpours took a parting shot Thursday at California, triggering flash floods that temporarily stranded more than three dozen people in their cars in inland Riverside County.
Torrents also flooded freeways in Sacramento during the Wednesday evening rush hour and likely opened a pair of large sinkholes in San Francisco. No injuries were reported.
The dwindling storm brought some relief to the parched state, but a new analysis showed how much more rain and snow is needed to pull it from its historic drought.
More than 99 percent of California remained in moderate or worse drought despite rains received through the end of November, national drought experts said.
The data cutoff for the update was Tuesday, meaning most rain and snow from the latest storm was not included. However experts said they don't expect the needle will move much when the latest precipitation is tallied.
"One event isn't going to take away three years of drought," said climatologist Brian Fuchs of the National Drought Mitigation Center in Nebraska.
The update shows the state's drought status was unchanged from the previous week, meaning 55 percent of the state still is considered in the most extreme category of drought while 99.7 percent remains in moderate drought or worse.
The past two months have seen several back-to-back rain storms, and the rain in recent days was among the heaviest that some areas had seen in years.
The system dropped widely varying amounts of rain, ranging from trace levels in some areas to 14.5 inches at Yucaipa Ridge in the San Bernardino Mountains. San Francisco saw 4.3 inches, while 1.5 inches fell on downtown Los Angeles, according to the National Weather Service.
The San Francisco Bay Area reached or exceeded normal annual rainfall totals for the first time in years.
The storm put downtown Los Angeles slightly above normal for the season to date. Since July 1, it has recorded 2.30 inches of rain compared with the normal average of 2.14 inches by Dec. 4.
East of Los Angeles in the San Bernardino Mountains, drought-shrunken Big Bear Lake rose 6 inches in two days with the storm's infusion of 1,171 acre feet of water, equal to 381.5 million gallons, the Big Bear Municipal Water District said in a Facebook posting.
The agency said it was more water than the lake has received at any one time in the past two years. It now contains 42,590 acre feet of water, well below the full level of 73,224 acre feet.
Fuchs and other climatologists stressed that California needs to see a consistent pattern of storms to move beyond its driest three years on record.
Along with rain and snow, drought monitors consider the water levels in reservoirs, rivers and streams, soil moisture, and dozens of other factors.