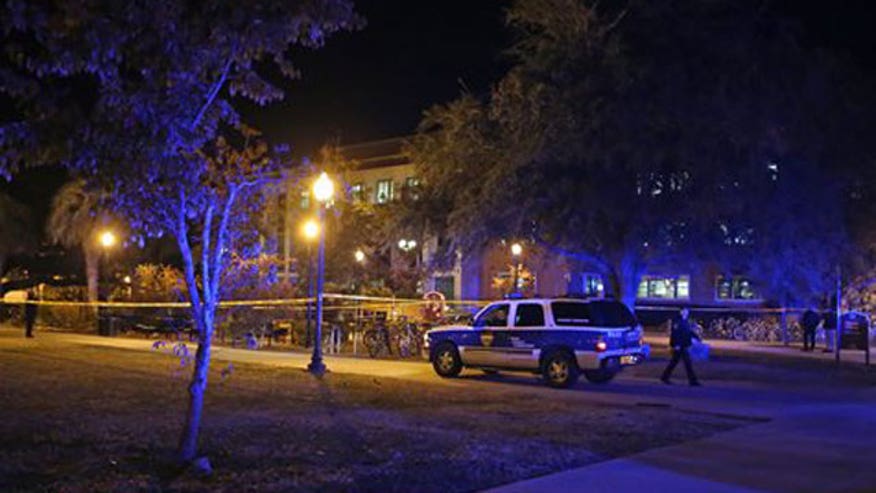 Three Florida State University students were shot and wounded inside the school's Strozier Library early Thursday morning by a gunman who was an alumni of the school and a lawyer, according to a law enforcement official.
The official said the shooter was Myron May -- who was killed by police -- graduated from Florida State before attending Texas Tech University's law school. The official requested anonymity because he was not authorized to release the name.
David Taunton, who runs a foster home in the Florida Panhandle, told FoxNews.com that May returned from Texas and asked if he could stay at a guest house in a rural area. Taunton, who knew May through his sons who ran track together in high school, agreed and let him stay in one for the past three weeks.
"He was a good a kid as it gets," he said.
May was back in the area to study for an exam and and seemed like himself until he disappeared Friday night after dinner with his grandmother, Taunton said. Taunton sent May an email to check on him, and said May responded, "I'm so sorry" referring to not checking in. "I'm all right."
May confided something with Taunton that "raised worry." But Taunton would not go into details of their last conversation. Police interviewed Taunton after the shooting, The Associated Press reported.
Meanwhile, the scene at the library was chaotic at about 12:30 a.m. when the armed suspect walked into the Tallahassee building and opened fire. There were reports of several gunshots heard in a row.
"This person just for whatever reason produced a handgun and then began shooting students in the library," FSU Police Chief David Perry said.
Rattled tonight by text and call from daughter at #FSU while in library during shooting. Praying for all involved. pic.twitter.com/NnDS1lbfVi

— David Sillick (@jbjpublisher) November 20, 2014
Sean Young, a student at the school who was on the third floor of the building, told WCTV.tv that students ran past him and some took refuge in a private study room rented by a fraternity.
"My first instinct was to remain calm and try to keep the people around me calm as well, and just try to cooperate," he said.
Sarah Evans, another student from the school, from Miami said she was inside the library and heard a male student say he had been shot. When she looked at him, he was on the ground with blood spreading on his pants leg.
In the meantime, the unidentified suspect made his way outside to the entrance of the building. He was confronted by campus police who ordered him to drop his weapon. The gunman disregarded the order and fired a shot at the officers. Police returned fire and fatally hit the man.
Hours after the shooting, detectives could be seen inspecting the body of the suspected gunman, who was lying face down at the top of an access ramp just outside the library. A gray baseball cap lay near his head.
WCTV.tv reported that all three victims were located around the library. The report said one student is in critical condition, another is stable and one was treated at the scene and released. Police did not say if the wounded were shot by the gunman.
Tallahassee Memorial HealthCare said as of 10:30 a.m. Thursday, the condition of the patients have not changed.
In a press conference Thursday morning, police assured that the shooting was an isolated incident and there is not further threat on campus. University officials said campus will remain open Thursday, but all classes are canceled.
Message from #FSU Pres. John Thrasher: pic.twitter.com/EvN5Cwpsrv

— Florida State Univ. (@floridastate) November 20, 2014
A nursing supervisor at Tallahassee Memorial HealthCare told the Associated Press that the hospital was treating two people for gunshot wounds early Thursday.
Shortly after 4 a.m., a loud tone sounded across the campus followed by an announcement that the campus was "all clear."
David Sillick, the publisher of Jacksonville Business Journal, told FoxNews.com that he received a text message from his daughter during the shooting, saying, "There's a man with a gun in the library. I love you." She called a few minutes later to say police were at the scene and clearing out the floors and she was fine.
"We didn't know what was happening so I monitored Twitter," Sillick said. "A message like that is every parents' worst fear."
Hours later, detectives could be seen inspecting the body of the alleged gunman. He was lying face down at the top of the access ramp just outside the library.
A telephone alert from the university urged people to stay away from doors and windows. The alert provided no details of what sparked the warning.FSUNews.com reported that students were on lockdown in a second library and in the university dormitories.
Florida State President John Thrasher, who took office earlier this month said in a statement Thursday the community is saddened by the events.
FSU UPDATE: 6 hrs after shooting, police are still trying to confirm identities of those involved, shooter's motive. Ongoing investigation.

— FOX 13 Tampa Bay (@MyFoxTampaBay) November 20, 2014
"The three students who have been injured are our highest priority followed by the needs of our greater university community. We will do everything possible to assist with their recovery."
Fox News' Edmund DeMarche and The Associated Press contributed to this report.