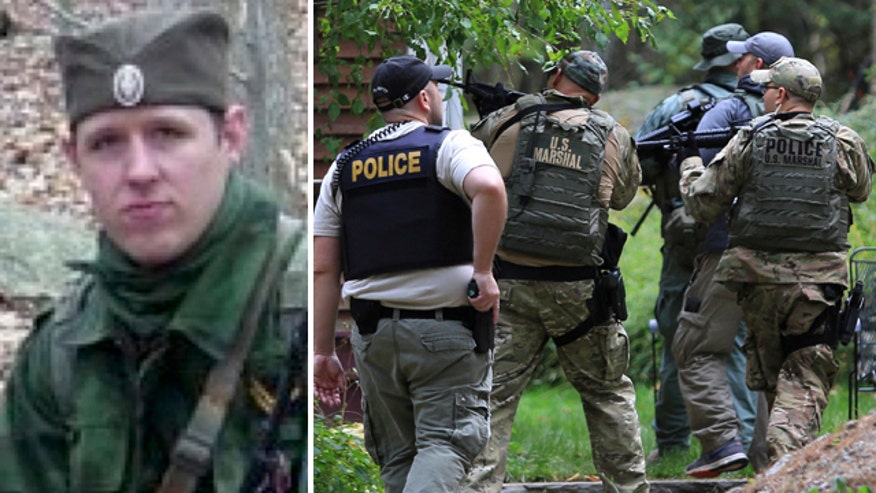 The suspect in the deadly Pennsylvania state trooper ambush earlier this month has been leaving a trail for police and, at times, wears adult diapers to enable him to hunker down for long periods of time like a sniper, police said Thursday.
Lt. Col. George Bivens told a press conference that officers believe they spotted the suspect, 31-year-old Eric Frein, who is charged with killing one trooper and wounding another, as recently as Tuesday. However, the distance and extremely rugged terrain separating the officers from Frein in each sighting means "he has had the ability to disappear," Bivens told reporters.
Police say Frein may be playing a game of cat-and-mouse, leaving behind soiled diapers and empty packs of Serbian cigarettes in the woods, along with other items they did not immediately disclose. They believe Frein has been playing out the role of an Eastern European soldier.
There have been multiple sightings, including by law enforcement, since Frein vanished 13 days ago. They believe Frein is dressed in black. The sightings have been at a distance and when police managed to approach, he was gone. Police believe Frein has been planning this for years and have found bunkers during their search.
Authorities say Frein ambushed the state police barracks in Blooming Grove on Sept. 12, fatally shooting Cpl. Bryon Dickson and wounding Trooper Alex Douglass. Police believe Frein, a Canadensis resident and self-taught survivalist, has been hiding in the dense woods surrounding his neighborhood.
Much of the search has focused on the area around the shooting.