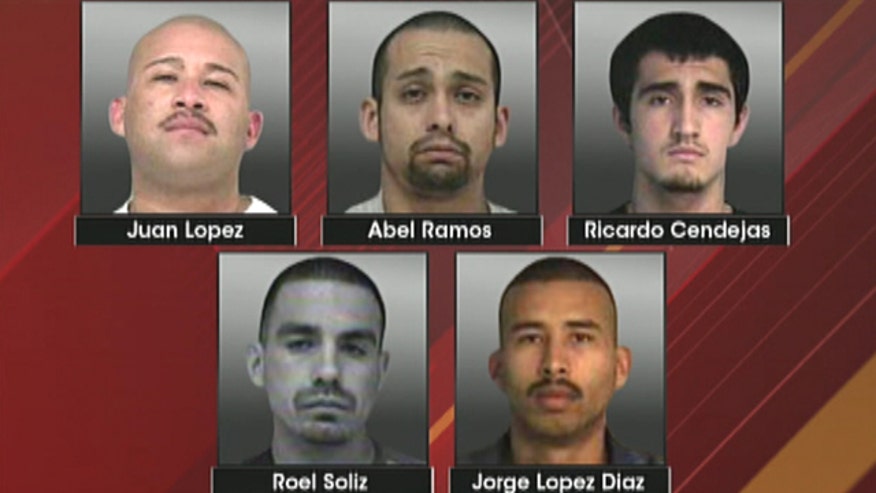 Four of the five inmates who escaped from a California county jail have been recaptured, authorities said.
Madera County sheriff's spokeswoman Erica Stuart said late Saturday that the escapees had been recaptured, but did not immediately provide further details of their arrests. Stuart identified 29-year-old Roel Soliz of Chowchilla, Calif. as the inmate still at large.
The other four inmates were identified at the time of the escape as Juan Lopez, 33; Abel Ramos, 25; Ricardo Cendejas, 19; and Jorge Lopez-Diaz, 26. Lopez had been imprisoned on armed robbery and attempted murder charges. Ramos and Cendejas were in jail for attempted murder and other charges, while Lopez-Diaz was in for robbery.
Soliz was in jail on charges of burglary, probation violation, and possession of a controlled substance. Stuart said he is to be considered armed and dangerous.
The inmates broke out of the Madera County Jail Friday evening and had been gone for approximately an hour when their escape was discovered. It is not clear how they escaped.
"We don't know how they got away, all we know is that they took off on foot," Stuart told reporters Friday.
In July an inmate at the jail who was behind bars on drug and weapons offenses, escaped from the facility and was on the lam for several hours until he was caught. Bryan King, 47, was working in the jail's kitchen and was taking out the garbage when he jumped a fence, according to the Fresno Bee.
The Associated Press contributed to this report.