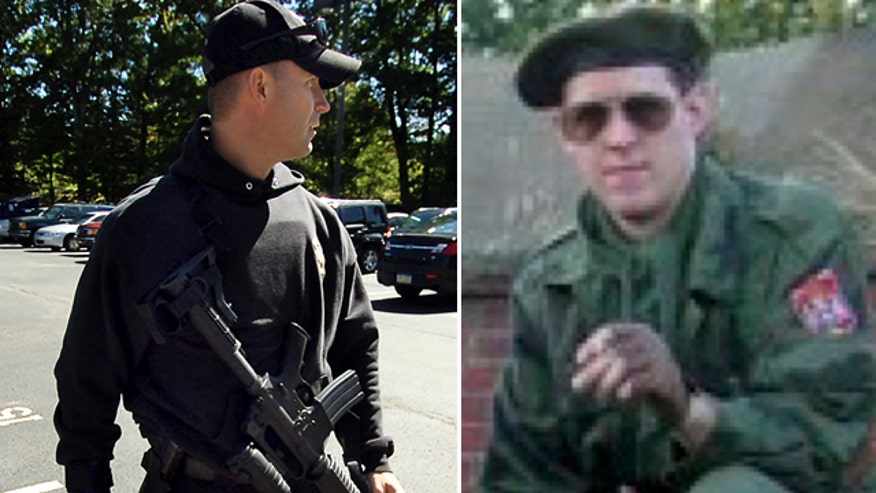 It was the dead of winter nearly 30 years ago when John Motz and a few friends hiked to one of their small cabins hidden deep in woods northeast of Canadensis, Pa.
As they approached the cabin they knew would be empty, they noticed white smoke billowing out of one of the chimneys.
"We went back to town, got a few more guys and found someone in it," he said. "That guy was wanted; he was a fugitive."
Now another wanted man, Eric Frein, who is suspected of killing one state trooper and wounding another in an ambush outside the officers' barracks is believed to be hiding in the same rugged wilderness that surrounds the small towns and ski resorts of the Pocono Mountains. Frein, a survivalist whose father called him a deadly shot with a rifle, disappeared into the woods six days ago and is considered armed and dangerous.
On Thursday, Frein was added to the FBI's Most Wanted List, and the agency was offering a $100,000 reward. Authorities say putting Frein on the list will allow the FBI to use more resources in the manhunt.
The search has fanned out to three contiguous states -- Pennsylvania, New York and New Jersey -- and various law enforcement agencies are involved, but state police believe Frein remains in the general vicinity of Friday's shooting at the rural Blooming Grove police barracks.
If that is so, Frein may have found an ideal area to get lost, although he would have to contend with damp conditions, ticks carrying Lyme disease and the state's largest black bear population, currently foraging in preparation for hibernation. But Motz said Frein has more to fear from the men hunting him.
"I'd say his biggest threat out there is the Pennsylvania state troopers though," said Motz, 45, who has been a member of the Pocono Outdoor Club since 1993. "They're like bees and he kicked the hive pretty hard."
Motz maintains the hiking trails near where the massive manhunt is under way.
Police have warned the public that Frein is armed and dangerous, and called him an anti-law enforcement survivalist who has talked about committing mass murder.
Lt. Col. George Bivens, who has been co-head of the state investigation, said Frein is likely still in the "general area," but combing through it will prove challenging.
"We're talking about hundreds of thousands of acres with nothing but dense trees and hunting cabins," Motz said. "Finding anyone would be incredibly difficult."
The terrain in Pike County is patched with rocky areas, damp swamps and heavy forests with almost-impassable thick brush, Motz said. Frein, if he is in the vicinity, would have to contend with ticks carrying Lyme disease and the state's highest black bear population.
"If he's a survivalist, he'll probably look at the bears as a source for food," Motz said.
Frein is a self-trained survivalist and trained marksman who police fear is motivated by a personal grudge with law enforcement. Police speculated Wednesday about his current state of mind and said he may have, in his mind, assumed the role of an Eastern European soldier.
"Information has been received that Mr. Frein currently has his head shaved tightly on both sides with long hair on top," Bivens said. "It's wider than a Mohawk."
Tim Dugan, a forester for the state, said they have been assisting authorities in the Pocono Mountain search by providing detailed maps of the area. He called the area of land rural with "trees as far as the eyes could see."
The region's woodland was deforested in the late 1800s and has since grown back with oak, maple and hickory trees, Dugan said.
Frein killed Cpl. Bryon Dickson, 38, and critically wounded Trooper Alex Douglass outside the Blooming Grove police barracks Friday, and slipped away, police said.
Authorities were led to Frein after a resident who was walking his dog in Blue Heron Woods, about 2 miles from the barracks on Monday, spotted a 2001 Jeep lightly submerged in a pond. Police said they found shell casings inside the vehicle that matched those found at the shooting scene.
Police said they found Frein's Social Security card, a Pennsylvania Game Commission range permit, camouflage face paint, a black-hooded sweatshirt, two empty rifle cases and military gear.
The Associated Press contributed to this report
Edmund DeMarche is a news editor for FoxNews.com. Follow him on Twitter @EDeMarche.