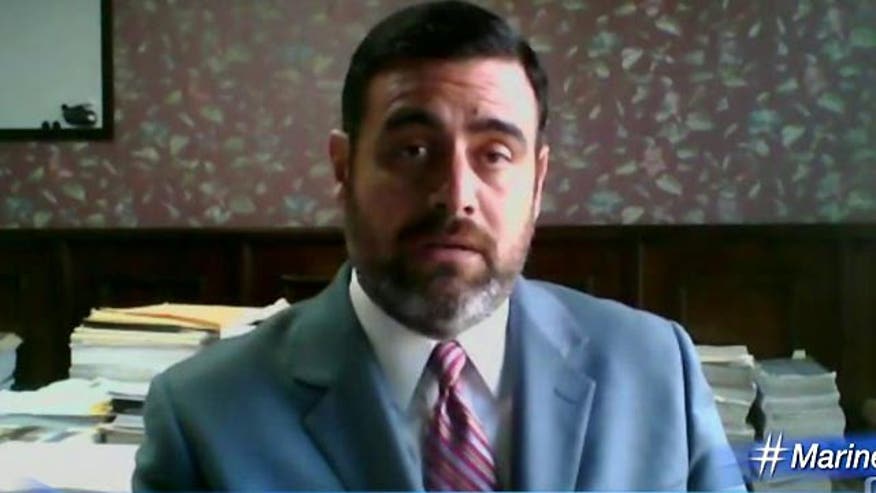 Lawyers for former Marine Sgt. Andrew Tahmooressi spent eight hours in a courtroom Tuesday viewing surveillance footage provided by Mexican Customs authorities in the presence of a federal prosecutor, judge, and US State Department representative. When Tahmooressi's defense attorney Fernando Benitez finally emerged from the courthouse just after midnight Wednesday, he declared the day a victory.
"We are happy with the results because we can conclusively state that our client told the truth all along," Benitez told Fox News in an exclusive interview.
Tahmooressi has been held since March 31, when he says he mistakenly crossed into Mexico with three legally-purchased and registered guns in his truck. If he is convicted, he faces six to 21 years in prison. Benitez has claimed that Tahmooressi's civil rights were violated by Mexican authorities and plans to eventually file a motion that would throw out evidence obtained in the hours after his client's arrest.
"You can clearly see that my client's demeanor from the beginning is calm, he is cooperative," Benitez told Fox Wednesday. "He is clearly motioning ... that he wants to go back and motions that the guns are hidden in a certain place and he cooperates with his captors."
However, Benitez was unable to provide any of the footage to Fox News, nor was he able to play any of the footage for independent viewing.
Both the defense and prosecution chose portions of the surveillance video to be played in court. Benitez said the footage would have taken several days to play in its entirety. The attorney also said the video showed Tahmooressi was handcuffed during most of the seven-and-a-half hour detention. The footage did not contain audio.
The defense next plans to make a video showing how easy it may have been for Tahmooressi to accidentally enter Mexico. While further hearings are likely, none have been scheduled yet.
Dan Gallo is a Fox News Channel Field Producer based in Los Angeles. Follow him on Twitter: @DanGallo