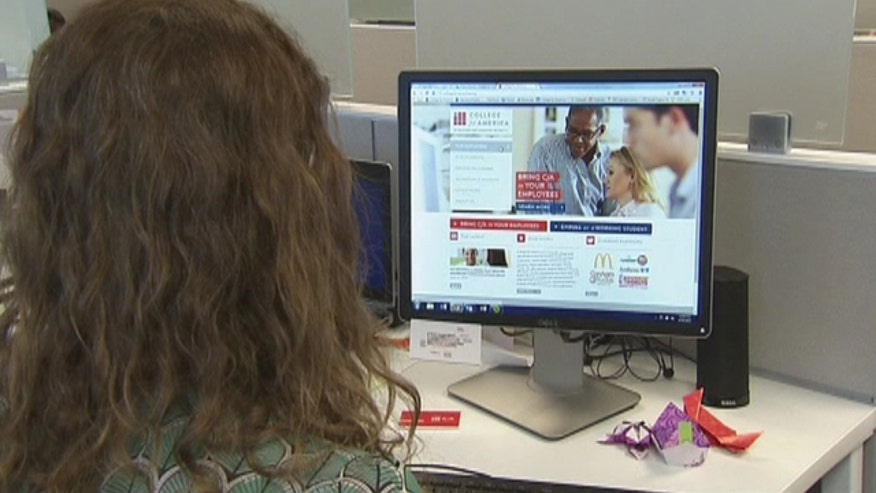 Experts estimate the average college graduate will leave school after four years carrying more than $30,000 in debt, a figure that prompted Southern New Hampshire University to offer a much different price point- a $10,000 Bachelor of Arts degree through the school's new College for America.
The program, created as a partnership with employers, is designed specifically for working people, with real life experience who, for one reason or another, never got a college degree. The curriculum is competency based, self-paced and student work is submitted largely online.
"One thing we know that can move people from their socio-economic position to something better is an education and that's the goal. We're trying to get more Americans across that finish line," said Paul LeBlanc, President of SNHU. "The hurdles for many people are that they have incredibly busy lives- so they're juggling work and family and kids and soccer practice and church and whatever else that sort of informs their calendar."
Some 70 corporate partners nationwide have signed on since the program launched in October of last year and 1,000 students have enrolled.
"I immediately thought it was brilliant," said Lisa Guertin, president of Anthem Blue Cross and Blue Shield in New Hampshire. She says her company jumped at the chance to join the pilot program.
Instead of traditional lectures and course work, College for America aims to ensure a student can complete certain tasks and master skills related to key areas needed in the working world.
"An employer knows that when someone finishes the degree they will have demonstrated mastery in 120 very specific areas that are immediately applied to the job," said Guertin. "So in terms of a corporate return on investment, I feel like it's even stronger than just paying for general college courses, which we were already doing, so this was a bit of a no-brainer."
"There are a lot of adults who know things. They don't need to sit through sixteen weeks of college math if they've been the book keeper in their family company or if they've been doing this work for a long time," said LeBlanc. "Our notion is let's get you credit for what you know and let's find you speedy ways for you to demonstrate your competency and move on."
Darby Conley, a 36-year-old working mom, was among the first to enter the program through Anthem.
"I have three young children. I was pregnant at the time. I was allowed to be as aggressive as I needed to be and I was also able to take some time off to be with my newborn and sometimes it can seem not attainable when you're looking at a two-year stretch or a four-year stretch," said Conley who was drawn to the program's low cost and flexability. "I was in control and I really got to dictate what my experience was going to be like."
She has already earned her associate's degree through the College for America and is now working toward her bachelor's degree, achievements that have gave her a greater sense of confidence.
"Society can make you feel that if you don't have that degree, if you don't have that plaque that's up on your wall, that you're not worthy and I would say that I took that to heart," said Conley. "I wouldn't apply for a job because it would say degree required, bachelor's required and I would be hesitant because I didn't have that even though I knew I was strong and I'd proven myself so that checked box has empowered me."
Molly Line joined Fox News Channel as a Boston-based correspondent in January 2006.