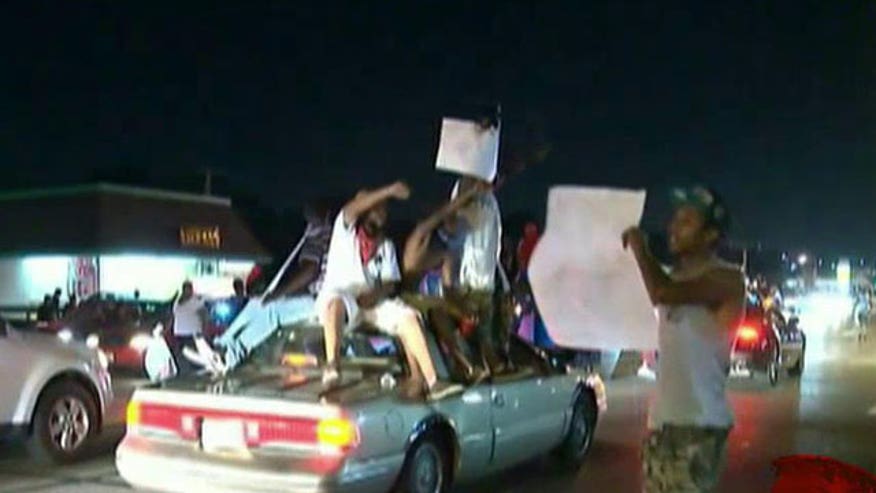 In addition to the widely reported arrests of two journalists Wednesday night inside a McDonalds, a number of other media covering protests in Ferguson have reported being the targets of aggressive police behavior .
A reporter from NBC affiliate KSDK tweeted that she felt side effects from tear gas. Another witness posted photos on her Twitter account that appear to show police officers destroying a news crew's equipment.
Al Jazeera issued a statement to the Huffington Post saying that its three-person crew "managed to get out unharmed."
"Al Jazeera America is stunned by this egregious assault on freedom of the press that was clearly intended to have a chilling effect on our ability to cover this important story," the network said. The crew could be seen running for cover from the equipment.
It is not uncommon for law enforcement and journalists to jockey for position during breaking news. But in the case of Ferguson, there appears to be an unusual sense of animosity.
"The media is not a target," Ferguson Police Chief Thomas Jackson said Thursday at a news conference.
Late Thursday the St. Charles County Regional SWAT Team released a statement saying it had made no attempt to prevent media coverage and had, in fact, been "assisting the media in moving their camera equipment and personnel to a safer area with their consent so they could continue to cover the event."
The protests stemmed from Saturday's fatal shooting of 18-year-old Michael Brown, whom police have said was shot after an officer encountered him and another man on the street. They say one of the men pushed the officer into his squad car, then physically assaulted him in the vehicle and struggled with the officer over the officer's weapon.
Dorian Johnson, who says he was with Brown when the shooting happened, has told a different story. He has told media outlets that the officer ordered them out of the street, then tried to open his door so close to the men that it "ricocheted" back, apparently upsetting the officer. Johnson says the officer grabbed his friend's neck, then tried to pull him into the car before brandishing his weapon and firing. He says Brown started to run and the officer pursued him, firing multiple times. Johnson and another witness both say Brown was on the street with his hands raised when the officer fired at him repeatedly.
Some journalists' run-ins with law enforcement were documented on Twitter.
On Wednesday evening, two reporters were briefly held after police officers attempted to clear a McDonald's restaurant where they were working. Wesley Lowery of The Washington Post and Ryan Reilly of The Huffington Post said they were handcuffed and put into a police van. The Post reported that Lowery said he was slammed against a soda machine and plastic cuffs were put on his wrists. The reporters were subsequently released without any charges.
"Compared to some others who have come into contact with the police department, they came out relatively unscathed, but that in no way excuses the false arrest or militant aggression toward these journalists," The Huffington Post said in a statement Thursday.
President Obama, who is vacationing with his family in Martha's Vineyard, said that law enforcement officials on the ground should not be arresting journalists and allow protesters to form peacefully, but said protesters should not target police officers.
Attorney General Eric Holder also said that journalists "must not be harassed or prevented from covering a story that needs to be told."
The Associated Press contributed to this report
Edmund DeMarche is a news editor for FoxNews.com. Follow him on Twitter @EDeMarche.