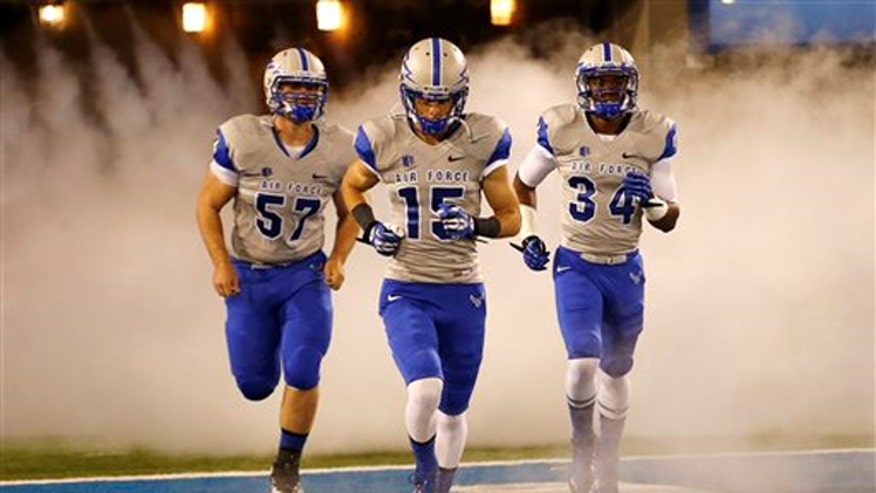 The U.S. Air Force Academy's superintendent is calling for a full investigation into cadet athletes after reports of sexual assaults, drugs and cheating, the Colorado Springs Gazette reported.
According to documents released to the newspaper through the Freedom of Information Act, parties dating to 2010 included cadets who were smoking synthetic marijuana, drinking until they became ill, and possible use of date-rape drugs to incapacitate women for sexual assaults.
The troubled group – which reportedly included two Air Force football stars who were court-martialed – created such a wild culture that leaders at the academy canceled an undercover sting planned for a 2012 party out of fears that agents would be unable to protect women from rape.
Experts blame big-money sports like football, as well as a drive to win, for fomenting misbehavior and a corrupt culture.
[pullquote]
The investigation conducted by the Gazette also discovered that athletes cheated on tests. And, in one instance, two basketball players were taught a specially-designed course just for them by an economics professor who accommodated their game and practice schedules.
Academy Superintendent Lt. Gen. Michelle Johnson, in calling for an Inspector General to probe the athletic department, said in a statement to the Gazette:
"These efforts will help in eliminating subcultures ... whose climates do not align with our institutional core values. Despite all of our efforts, I expect we'll still have issues with a few young people who will make poor choices."

Through the past three years, more than a dozen problem cadet athletes have left the academy, the paper reports. This has led to a dearth of talent on the field, causing the football team to fall to 2-10 last year in what some call the worst season in the academy's history.
Before the athlete exodus, the football team was a bowl game victor and a perennial contender for the coveted Commander-in-Chief's Trophy, according to the paper.

Some of the star athletes cited in the Gazette report include Linebacker Jamil Cooks, who was convicted of abusive sexual contact; wide receiver Anthony Daniels, convicted of attempted sodomy; and recruited athlete Stephan Claxton, who was convicted of wrongful sexual contact.

Fostering great leaders through athletic competition is one of the academy's core values. The sports program has grown generals, military heroes, CEOs and members of Congress.

Click for the full investigation from the Colorado Springs Gazette.