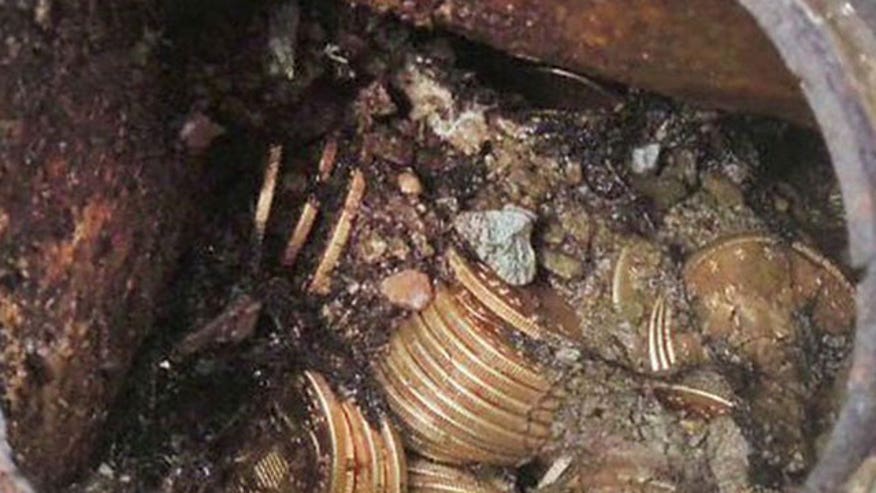 SAN FRANCISCO – A treasure trove of rare gold coins discovered by a California couple out walking their dog is set to go on sale.
One of the coins — an 1874 $20 double eagle — is scheduled to be auctioned at the Old San Francisco Mint on at 8:30 p.m. Tuesday.
Don Kagin, whose firm is handling the sale, says most of the remaining 1,400 coins will go on sale on Amazon.com and Kagins.com later in the evening.
Nearly all of the 1,427 coins, dating from 1847 to 1894, are in uncirculated, mint condition, and have been valued at $11 million.
The couple, whom Kagin declined to identify, found them last year buried under the shadow of a tree on their rural Northern California property.
Kagin says there have been numerous theories about the coins' origins, but none have panned out.
What makes their find particularly valuable, said David McCarthy, chief numismatist for Kagin Inc. of Tiburon, is that almost all of the coins are in near-perfect condition. That means that whoever put them into the ground likely socked them away as soon as they were put into circulation.
Because paper money was illegal in California until the 1870s, he added, it's extremely rare to find any coins from before that of such high quality.
"It wasn't really until the 1880s that you start seeing coins struck in California that were kept in real high grades of preservation," he said.
The coins, in $5, $10 and $20 denominations, were stored more or less in chronological order, McCarthy said, with the 1840s and 1850s pieces going into one canister until it was filed, then new coins going into the next one and the next one after that. The dates and the method indicated that whoever put them there was using the ground as their personal bank and that they weren't swooped up all at once in a robbery.
One of the largest previous finds of gold coins was $1 million worth uncovered by construction workers in Jackson, Tenn., in 1985. More than 400,000 silver dollars were found in the home of a Reno, Nev., man who died in 1974 and were later sold intact for $7.3 million.
Gold coins and ingots said to be worth as much as $130 million were recovered in the 1980s from the wreck of the SS Central America. But historians knew roughly where that gold was because the ship went down off the coast of North Carolina during a hurricane in 1857.