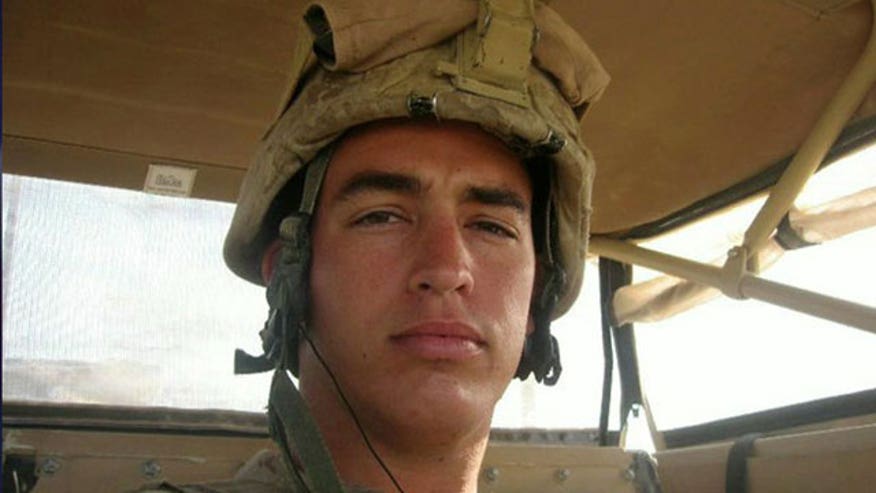 The mother of a 25-year-old Marine combat veteran says the wrong turn her son made into Mexico that ultimately resulted in his arrest could have been caused by a side effect of severe concussions he sustained while in combat in Afghanistan.
Jill Tamhooressi, a registered nurse, told FoxNews.com that her son, Andrew, who has been in a Mexican prison since March 31 after making a wrong turn into the country with three legally-purchased weapons, suffers from directional dysfunction as a consequence of a two severe concussions he suffered serving in Afghanistan, one of which came when a vehicle he was riding in struck an improvised explosive device.
According to Jill Tahmooressi, the IED incident occurred Aug. 1, 2010, and was followed by a fall that resulted in a loss of consciousness and stitches to his head in February 2012.
She said it is not uncommon for her son to lose his bearings on directions he is very familiar with. This compelling explanation for a wrong turn from the California border town of San Ysidro along a dark and poorly-defined road led him into Mexico, where it is illegal to carry weapons across the border.
"I coined it directional dysfunction," Jill Tahmooressi said. "His PTSD evaluation from his VA Medical record from March 3, 2014 does not screen for disorientation during driving."
Dr. Warner 'Butch' Anderson supported Jill Tahmooressi's hypothesis.
"A traumatic brain injury absolutely could cause this kind of disorientation," Anderson said.
Not only is Anderson an emergency and internal medicine specialist, he is a retired Army colonel who served two combat tours in Iraq, one of which was with a special forces unit. He also rewrote the curriculum for special forces combat medics and served with the assistant secretary of defense for Health Affairs.
Anderson said loss of executive function, the loss of attention to specific details, is high on the list with TBI, and distraction could relate to the PTSD.
"I have been diagnosed with PTSD and know how easy it could be to et distracted," Anderson said.
He said recently he was driving to Albuquerque for a cardiac stress test, turned off the road to a service station for a bottle of water, got distracted, and wound up getting back on the freeway in the direction he had come from.
"Most definitely, with his PTSD and TBI, getting disoriented the way I have seen on TV the way he did, is not uncommon symptoms," Anderson said
Anderson went on to say that the escape attempt and the self-inflicted wound Andrew attempted while under the death and rape threats in the deplorable conditions of the notorious LaMesa prison in Tijuana are also typical PTSD responses.
Anderson said Andrew Tahmooressi should have received neuropsychiatric-physiological testing through the VA, results of which only the patient may disclose. Jill Tahmooressi said she had seen all of Andrew's medical records and being a registered nurse could interpret them and found that he never had a neuropsychological examination or was diagnosed with a TBI, despite two significant brain injuries. She said he was the driver of the combat vehicle when the IED exploded beneath him.
"This could be his get out of jail free card if these results are available," Anderson said. "Showing these results could be a big hammer over Mexico."
Andrew Tahmooressi was diagnosed with post-traumatic stress disorder on March 20, which prompted his visit to the San Diego area for more definitive care at a facility in La Jolla.
According to Jill Tahmooressi, In 2013, Andrew missed his home exit by 50 miles while driving at night not once but twice. At other times, she said, he would head east when he needed to go north, as examples.

Judging by re-enactments of Andrew Tahmooressi's accidental drive into Tijuana, it is evident how easily it could have been to become directionally disoriented given poorly lit roads and signs and concrete lane barriers that would have made it virtually impossible to cross over to where he could have turned around.
"Being a pilot at 17 years old, a commercial fisherman at 18 in Alaska, I know reliance on the sun is a great marker at day yet night at 11pm could be disorienting especially with unfamiliarity of area," Jill Tahmooressi said.
Andrew Tahmooressi served two tours in Afghanistan as a machine gunner with the 2nd Battalion 6 Marines of the Second Marine Division out of Camp Lejeune, N.C. On Feb 2, 2012, he received a battlefield promotion to sergeant
Andrew Tahmooressi's Tijuana based attorney, Alejandro Osuna could not be reached for comment, but in a previous interview did say he had to be cautious not to disclose many details of his defense in the media.