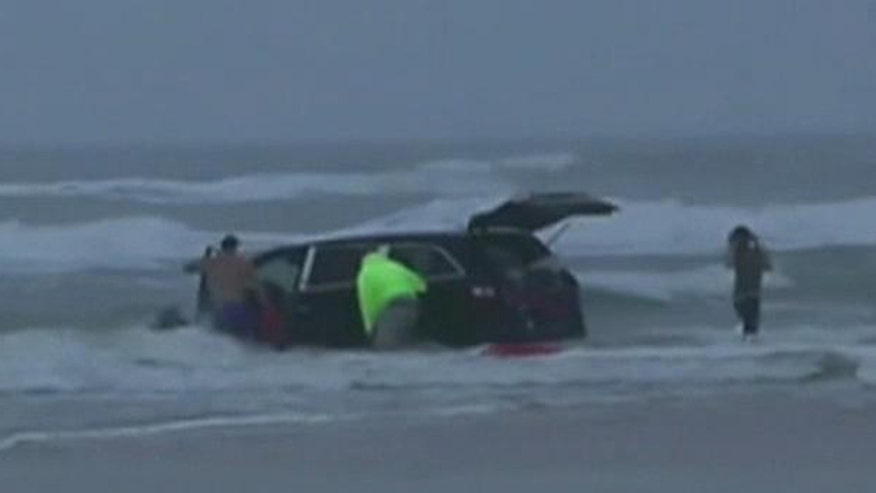 Authorities released dramatic video Wednesday showing rescuers pull members of a South Carolina family from their minivan after it became submerged in the Atlantic surf on Florida's Daytona Beach.
The Daytona Beach News-Journal reported that the woman and her children — ages 3, 9 and 10 — ended up in the water around 5 p.m. Beach Safety Capt. Tammy Marris says the woman was driving on the beach, where cars are allowed. One witness reportedly saw the woman take a hard turn toward the ocean.
Rescuers could be seen in the video outside the car pulling the children to safety while the surf was crashing on the hood of the car. The mom managed to escape through the window.
One witness said the children in the backseat were screaming that their mom was trying to kill them.
"The two in the backseat was crying with their arms out saying 'Our mommy's trying to kill us, please help," Tim Tesseneer, a witness, told First Coast News. Tesseneer said rescuers were leaving the minivan and were told by the children that there was a baby in the vehicle. The mother "wouldn't say a word. She didn't tell us nothing about a baby."
The family was taken to Halifax Health Medical Center for treatment. Their vehicle was towed. Police say the mom is being uncooperative and has been taken in for psychiatric evaluation. The three children spent a night in the hospital and may stay with grandparents.
"She had this look on her face," Tesseneer reportedly said. "I can't describe it. It was just an awful blank look, like spaced out look."
The Associated Press contributed to this report