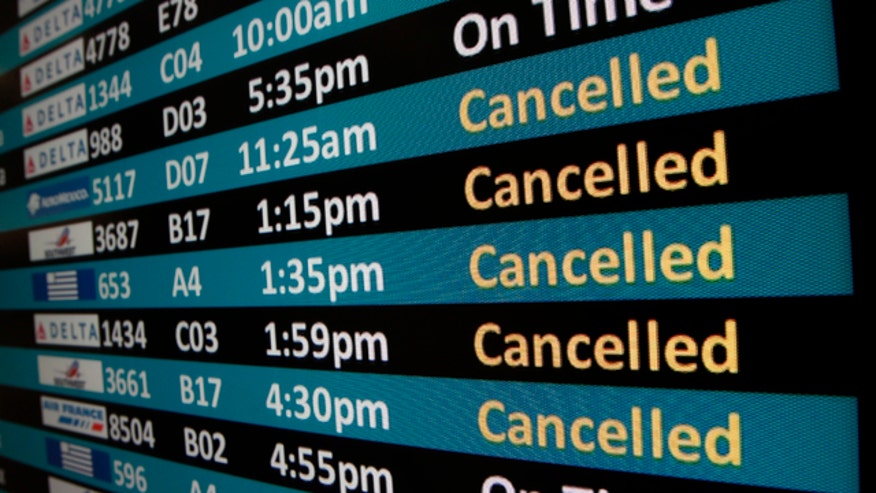 At least 1,500 U.S. flights were canceled Friday as a winter storm swept over the Northeast, dropping nearly 2 feet of snow just north of Boston and shut down major highways in New York and Pennsylvania.
The airports most affected by the storm as of Friday morning were New Jersey's Newark Liberty International, La Guardia Airport, John F. Kennedy International Airport, Philadelphia International Airport and Boston's Logan International Airport.
There were nearly 1,533 cancellations and 431 delays nationwide reported Friday morning, according to FlightAware.com. The Federal Aviation Administration said early Friday that JFK closed at 6:12 a.m. EST due to the storm. It was expected to reopen at 8:30 a.m.
There were nearly 2,300 cancellations and 3,900 delays reported on Thursday afternoon. Some schools in New England and New York closed pre-emptively or planned early dismissals, while cities issued on-street parking bans and homeless shelters were expected to fill beyond capacity.
All airlines were canceling flights from Boston's Logan at around 8:30 p.m. Thursday. The Massachusetts Port Authority did not expect to start up airport operations again until Friday "somewhere before noontime," MyFoxBoston.com reported.
New York Governor Andrew Cuomo encouraged drivers to utilize mass transit as there may be closures of major highways across the state including, the NYS Thruway I-87, Interstate 84, Interstate 684 and the Long Island Expressway, MyFoxNY.com reported.
Connecticut Governor Dannel P. Malloy was urging residents to take it slow and avoid travel during the height of the storm Thursday night.
In Hartford, Conn,, Hal Guy, of nearby Glastonbury, was shopping for snow shovels -- three, to be exact.
"We broke a couple in the last storm," he said. "We have four kids, so, three shovels, and we still have a little one back home."
Guy said three of his kids, girls ages 8, 10 and 12, have been out of school for two weeks for the holidays and hope to get a couple more days off with the snow.
Over in Maine, where some communities are still recovering from a recent ice storm that cut power to more than 100,000 customers, people seemed prepared for more winter weather.
Kelly St. Denis, of Auburn, went skiing Wednesday at the Sunday River ski area with family and friends. She said it's been cold but the skiing has been good.
"Hey, it's winter in Maine," she said. "We go with it."
The Associated Press contributed to this report