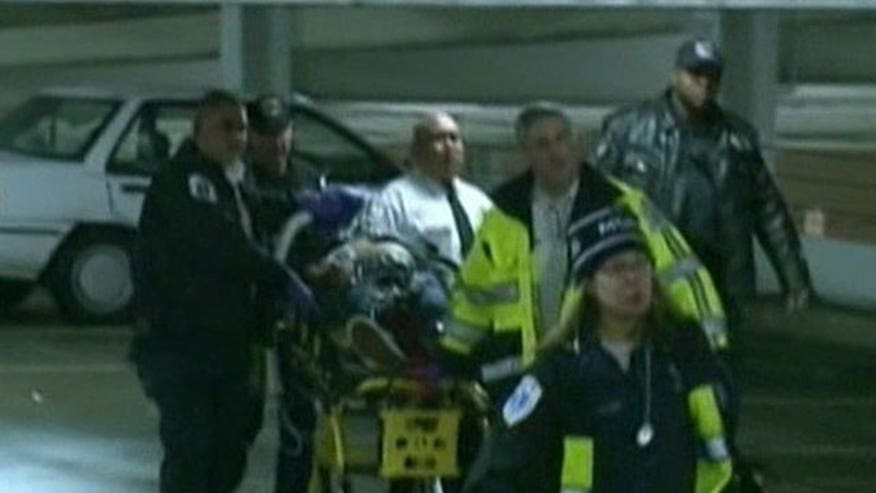 As the reward for suspects connected to a fatal carjacking at an upscale New Jersey mall has risen to $41,000, the number of such violent crimes in the garden state's Essex County has reached 450 in 2013 — an all-time high.
Katherine Carter, a spokeswoman for the Essex County Prosecutor's Office, told FoxNews.com that 450 carjackings have occurred this year, up from 422 in 2012. In 2011, 277 carjackings were reported in the county, which includes crime-ridden Newark, once dubbed the "car theft capital of the world" in the 1990s.
"It's the most ever," said Carter, who encouraged motorists to, among other things, have their keys ready when approaching their vehicle and never to leave valuables unattended.
Carjackings have been thrust back into the national spotlight following the death of a 30-year-old man who was fatally shot by assailants on Sunday in the parking garage of The Mall at Short Hills, about 10 miles west of Newark. Dustin Friedland, a 30-year-old attorney who lived in Hoboken, has been mourned as a man of integrity, with relatives noting that his final act was to open the car door for his wife, who is also an attorney. Authorities continue to seek two assailants who fled in Friedland's silver Range Rover, which was recovered abandoned Monday in Newark. A reward for information leading to the arrest and conviction of those suspects now stands at $41,000.
Statewide, figures on the violent crime are just as dismal, as a special report compiled by the New Jersey State Police found that carjackings tallied 379 in 2011, up from 208 in 2007. Within Essex County, 277 incidents were reported, including one murder as a result of a carjacking, accounting for 73 percent of the state's entire total in 2011.
In 2009, Essex County tallied roughly 200 carjackings, often occurring in early morning hours and involving high-end vehicles, although no makes or models were seemingly immune. In response, a task force including state police and federal authorities was established in 2010. Most recently, in August, Essex County prosecutors launched an anti-carjacking public awareness campaign, including billboards and bus placards highlighting stiff penalties for convicted carjackers.
"Carjacking is not the same as taking a stolen car for a joyride," Essex County Prosecutor Carolyn Murray said in a statement in August. "When you pull out a gun and demand someone's vehicle, that is serious crime and the penalties are severe if you are convicted. We want to send that message to young people who sometimes seem to view carjacking as nothing more than a theft."
At least 37 defendants have been prosecuted by the U.S. Attorney's Office since the formation of the anti-carjacking task force and charges for five additional alleged carjackers were announced in July. Most recently, a 42-year-old Newark man was sentenced on Dec. 3 to 25 years in state prison for carjacking a 21-year-old West Orange man on June 24, 2011.
Authorities said the victim in that crime was putting air in the tire of his Infinti at a West Orange gas station when Clarence Williams suddenly entered the car. The victim was then dragged 45 yards into oncoming traffic with his leg trapped beneath the car, according to Essex County Assistant Prosecutor Jamel Semper. Williams fled the scene but was later arrested after the car was recovered roughly two miles from his home. Williams' DNA was recovered on a cigarette and soda bottle found in the car, authorities said.
Williams, who had 21 previous arrests, must serve 21 years before he becomes eligible for parole under the No Early Release Act.
"Given this defendant's extensive criminal history, we sought the maximum of 30 years in prison but we are satisfied that a violent offender will be off the streets for the next two decades," Semper said in a statement earlier this month.
Click here for more information on carjackings from the Essex County Prosecutor's Office.