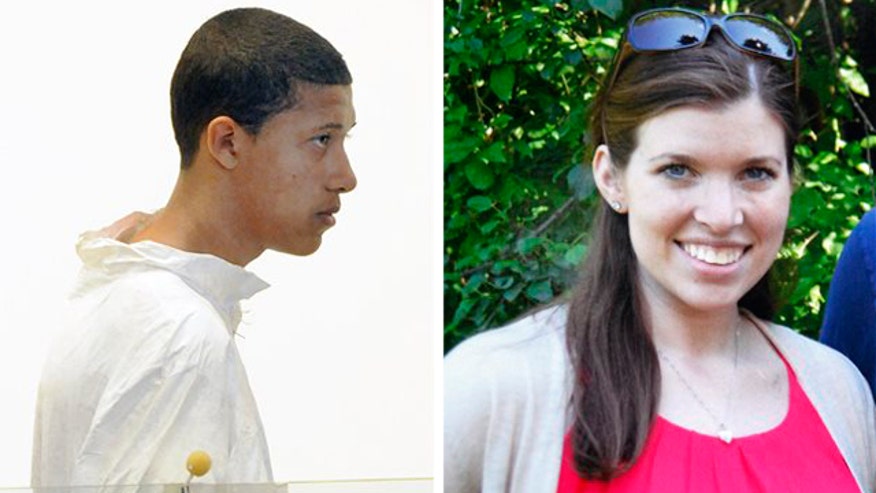 The mother of the 14-year-old Massachusetts high school student accused of murdering his math teacher earlier this weekend said her 'heart is broken' by the tragedy.
In a statement released through the family's attorney Saturday, Diana Chism expressed remorse for the death of 24-year-old Colleen Ritzer, whom authorities say was murdered by Diana's son, Phillip, in a women's bathroom at Danvers High School Tuesday.
"Ms. Chism's heart is broken for the Ritzer family and the loss of their daughter and sister Colleen Ritzer," the statement read in part, according to MyFoxBoston.com. "She asks that you know that she cares for the world's hurt over this and greatly hopes for your prayers for the Ritzer family, the Danvers community, for her son, and all those affected by this tragedy,"
Students at the high school returned Friday, surrounded by extra safety measures as well as tributes to the victim, including trees adorned with pink ribbons, her favorite color. School had been canceled the previous two days.
The day was stressful and difficult, said freshman Cambria Cloutier, 14.
"Everyone was just kind of crying, crying together. Everyone," she said.
Cloutier had class with Ritzer and Chism, and she returned to the classroom to find it stripped of pictures and handwriting. "There was basically no life in it," she said.
She said she could only tolerate being back in the room for about five minutes because she was thinking about seeing Ritzer and Chism together in the room after school Tuesday, shortly before the teacher was killed.
"Just remembering that ... was overpowering," she said.
Outside the school, an electronic sign displayed a tweet that Ritzer posted this summer: "No matter what happens in life, be good to people. Being good to people is a wonderful legacy to leave behind."
"RIP Miss Ritzer. Gone, not forgotten," was written in the school colors of blue and white on the windows of a pickup truck in the student parking lot.
A police officer stood outside a cruiser in front of the school, part of the extra security intended to reassure students. Side doors were to be locked for the next few days, and counselors would be on hand, officials told 800 parents at a meeting Thursday night.
About 50 miles away at Assumption College in Worcester, where Ritzer graduated in 2011, a memorial service was held in her honor Friday.
Ritzer's death left "a mountain of sadness," said the Rev. Dennis Gallagher, who officiated at the service. But, he said, Ritzer was obviously committed to both her profession and to being kind to others.
"Wherever it came from, she seems to have understood some really important things about life," he said.
Ritzer's funeral Mass will be on Monday in her hometown of Andover at St. Augustine Church, where calling hours will be held Sunday afternoon and evening. Her family said a scholarship has been established to honor her "tireless and dedicated work." It will benefit Andover High School graduates who pursue a teaching career.
Tuesday's school day ended for both Chism and Ritzer in her last-period Algebra I class, where she noticed him drawing in a notebook rather than taking notes, said Chism's classmate Rania Rhaddaoui, who sat two seats from him. Ritzer asked Chism to stay after class, Rhaddaoui said, but she didn't know why.
Ritzer never returned home. Blood in a second-floor school bathroom helped lead investigators to her body, which was dumped in the woods behind the school in this close-knit community about 20 miles north of Boston.
The second-floor bathroom at the school would be closed indefinitely, Danvers police chief Neil Ouellette said.
Authorities believe Ritzer was killed after school ended at about 2 p.m., but they have not released a specific time.
Police picked up Chism early Wednesday, as he walked along Route 1 in neighboring Topsfield. Chism appeared briefly in court Wednesday for arraignment on a murder charge and was ordered held without bail.
Chism had moved to Massachusetts from Tennessee before the start of the school and excelled on the junior varsity soccer team.
Caio Silva, a Danvers High School senior and varsity soccer player, said he knew both Chism and Ritzer. He said he and his teammates are helping each other.
"A lot of the guys are really shocked, a lot of guys are down, really upset," he said.
"It's just really sad," he said. "A lady that was really sweet and a kid who was really sweet. It just doesn't really match up."
The Associated Press contributed to this report.