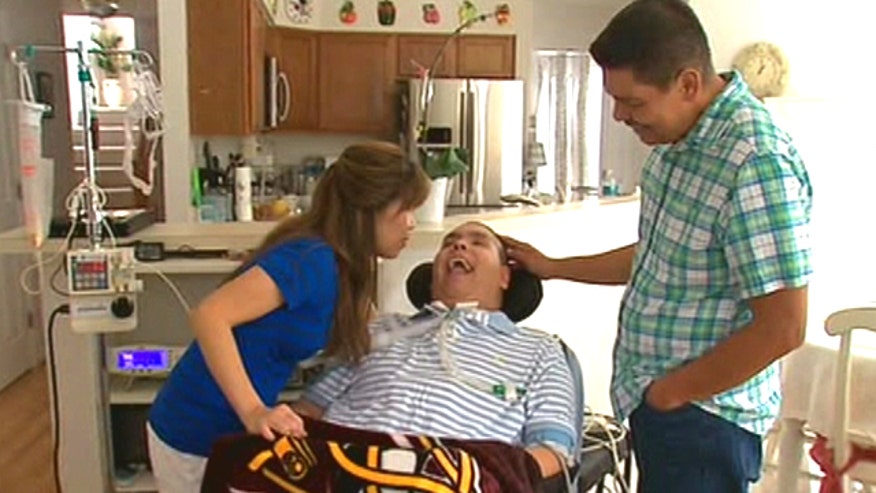 In 2003, Army Spc. Jay Briseno was patrolling the streets of Baghdad when, without warning, he was shot in the neck by an Iraqi civilian.
The attack left the Army veteran, now 30, with severe brain damage and a permanent quadriplegic, and, while his medical care is covered by the military, he needs more than simple medical treatment. His parents are his full-time caregivers, having sacrificed their own careers and lives to aid and comfort their only son. Jay's father, Joe Briseno, also an army veteran, told Fox News they have nearly gone through all their savings and, like thousands of other caregivers, feels ignored.
"I believe our country and our government need to focus on caregivers like us because we quit our jobs," the elder Briseno told Fox News outside his home in Manassas, Va. "We don't have any income and we can't retire because this is an ongoing issue that concerns us, and we have to take care of the needs of our son."
Joe and Eva Briseno provide their son with around-the-clock care, as he remains paralyzed and on a ventilator full-time. They are not alone: Many military families are now making similar sacrifices to care for their severely injured loved ones. Tens of thousands of veterans came back from Iraq and Afghanistan with injuries so severe their needs cannot be met by the medical community or the Department of Veteran Affairs alone.
But some much-needed help could come due to the efforts of former U.S. Sen. Elizabeth Dole, who through her foundation is pushing for more help for caregivers. She has noted that while many charities provide well-deserved aid directly to wounded warriors, the loved ones who care for them need help, too.
"In most cases they are unnoticed because they are hidden heroes," Dole told Fox News. "It's the fathers, the mothers, spouses and loved ones of the wounded warriors who are taking care of so many needs."
The Elizabeth Dole Foundation recently commissioned a study by the Rand Corporation called "Military Caregivers: Cornerstones of Support for Our Nation's Wounded, Ill, and Injured Veterans," to bring attention to the hardships experienced by those caregivers.
"As a nation we need to be aware that behind our veterans are these caregivers and they need our attention and our support to ensure that not only can our veterans thrive, but our caregivers are doing well," said the report's lead author, Terri Tanielian, of the Rand Corporation. "Military caregivers experience a deterioration in their own health, they face increased mental and emotional stress they may experience income loss."
Yet for Joe Briseno and the thousands of other caregivers, life has to go on. He is currently in training for the Marine Corps Marathon, which takes place in Washington later this month. The devoted father hopes to raise enough money to help buy his son a special home customized for Jay's medical condition.
If you would like to help Jay Briseno enjoy a better life click here to find out how.
Douglas Kennedy contributed to this report
Ben Evansky can be followed @globalposts
Ben Evansky reports for Fox News on the United Nations and international affairs.
He can be followed @BenEvansky