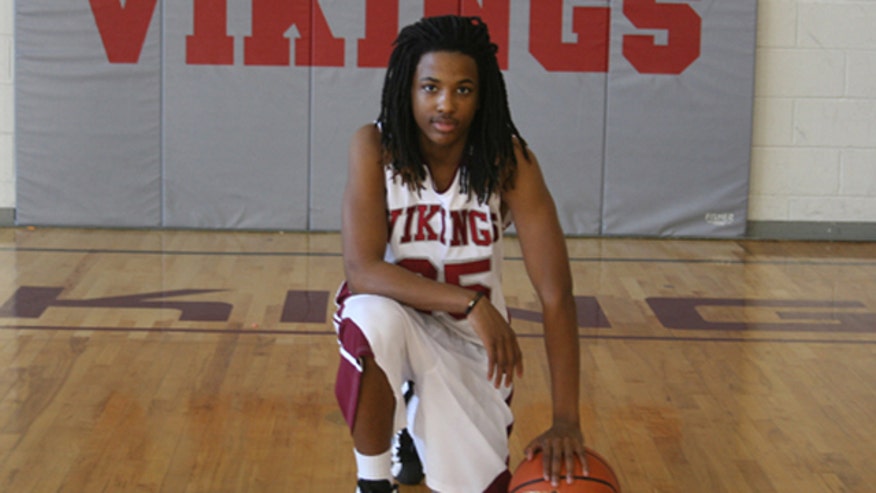 In light of a new autopsy by a private pathologist, the U.S. attorney in Macon, Ga., said his office will 'monitor and evaluate' the death of a teenager who was found dead in a rolled up wrestling map inside a high school gym last winter.
After months of investigating, sheriff's investigators had determined that 17-year-old Kendrick Johnson died in a freak accident on Jan. 11 at his Valdosta high school.
The teen's family has never been content on that determination.
Anastasia Roe, the his aunt, told FoxNews.com that she is "100 percent" confident that his death was not accidental and said she was encouraged that Michael Moore, the U.S. attorney, has at least said the new autopsy will be considered.
"We're not going to stop until there's a true investigation," she said.
At this point, however, the Justice Department said in an emailed statement Wednesday it had reviewed the file of the state investigation of Johnson's death and "we do not see sufficient indication of a civil rights violation to authorize a civil rights investigation."
Family attorney Chevene King said that a new autopsy by a out-of-state private pathologist has concluded the boy died from an apparently non-accidental blow to the neck. Johnson's parents had reported the teen missing when he didn't return from school Jan. 10.
Sheriff Chris Prine in Lowndes County has previously said he suspected Johnson became trapped while trying to retrieve a shoe that fell into the center of the large rolled mat. A Georgia Bureau of Investigation medical examiner concluded the youth died from positional asphyxia, his body stuck in a position in which he couldn't breathe.
But the teen's parents, Kenneth and Jacquelyn Johnson, hired Dr. William R. Anderson to provide a second opinion after a judge agreed in May to exhume the body. The out-of-state pathologist performed his own autopsy in June and presented a four-page report of his findings Aug. 15.
Anderson's report said he detected hemorrhaging on the right side of Johnson's neck. The pathologist concluded the teenager had died from blunt force trauma near his carotid artery and that the fatal blow appeared to be "non-accidental."
King said the findings appear consistent with a possible assault.\
The parents' attorney also said copies of the autopsy's findings had been sent to local authorities and to the U.S. attorney for Georgia's middle district and the Civil Rights Division of the Justice Department.
GBI spokeswoman Sherry Lang said the agency stands by the findings of its initial autopsy but declined comment on specifics. The sheriff's office did not immediately return a phone call seeking comment.
King said Johnson's family doesn't expect either one to take an objective second look at the case.
"We have really no recourse but to see whether or not the Justice Department or U.S. attorney's office would come in and reopen the investigation," King said.
The sheriff and his detectives spent nearly four months investigating Johnson's death before closing the case in early May. They said school security camera footage showed Johnson walk into the gym by himself at 1:09 p.m. on Jan. 10, the day before his body was found. There was a gym class afterward and basketball practice in the gym that evening. Nobody found Johnson's body until the next morning.
The sheriff told The Valdosta Daily Times on May 3 that students who didn't have lockers kept personal belongings such as gym shoes on top of rolled-up wrestling mats left propped up behind the gym bleachers. Investigators found some of Johnson's books and one tennis shoe near the body and believe they tumbled from atop the mat when a gym coach frantically pulled it over trying to free Johnson after students spotted his feet.
"We did everything we knew to do, and this is a tragic accident," Prine told the newspaper in May. "But that's all it was -- an accident."
However, Prine also acknowledged in the same interview he waited to call the county coroner immediately, as required by Georgia law, because he feared the death would be leaked to the news media. And King said paramedics who saw body noted in a report that they spotted bruising along the right side of his neck, a detail he says authorities never explained.
Fox News' Edmund DeMarche contributed to this report