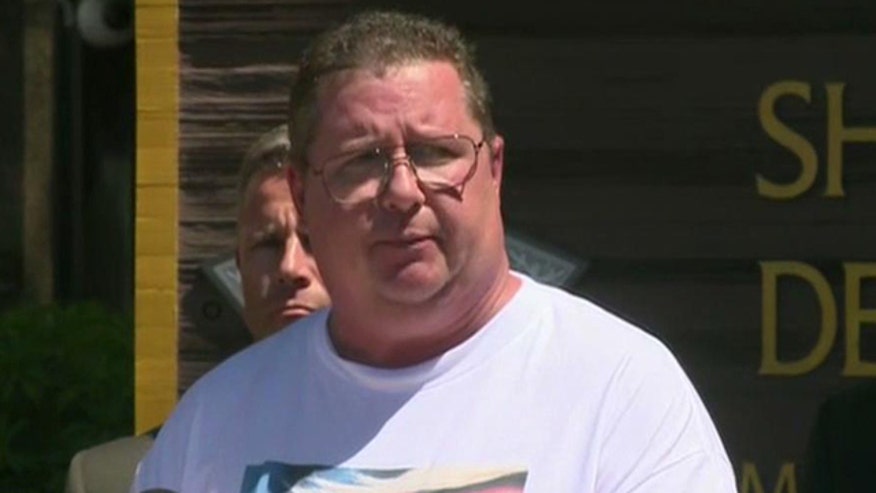 A family friend who allegedly abducted a 16-year-old girl after killing her mother and brother fired his rifle at least once at FBI agents before they shot him to death in the Idaho wilderness, authorities said Monday.
The rescued girl, Hannah Anderson, was described by San Diego County Sheriff Bill Gore as "doing as well as can be expected." He also told a San Diego press conference, "she was a victim, not a willing participant… she was under extreme duress" from the time she was abducted.
Hannah is now back in San Diego with family members and her father, Brett Anderson, told reporters "her healing process will be slow."
"She has been through a tremendous, horrific ordeal," said Brett Anderson, who declined to answer questions after reading a brief statement Monday.
The teen was rescued Saturday night after horseback riders who encountered her and 40-year-old James Lee DiMaggio last week in the rugged Idaho back country reported them to authorities, saying "red flags" went up because they seemed so out of place.
On Friday, police found DiMaggio's car, hidden under brush at a trail head on the border of the wilderness area.
Then searchers spotted the pair by air and two highly specialized FBI hostage teams moved in on ground.
Gore said DiMaggio was believed to have fired first, getting off one and possibly two shots from a rifle.
He also said Hannah did not know her mother, Christina, and brother, Ethan, had been killed until she was rescued.
"I can't make it any clearer: She was a victim in this case. She was not a willing participant," Gore said.
Investigators believe DiMaggio killed the mother and son, who were visiting his home, then set fire to his log cabin and detached garage and fled with Hannah.
A friend of Hannah's claimed last week that the girl was "creeped out" by a crush she suspected DiMaggio had on her.
Christopher Saincome, Hannah's grandfather, told the Associated Press his son-in-law wanted to take Hannah with him to Tennessee, where he recently moved. Saincome urged him to have her stay in the San Diego area, where she grew up and has a large circle of friends.
"I think she needs to be here with friends," Saincome said. "I know she's taking it very tough. One of her best friends is with her, talking to her."
Anderson is a gymnast at El Capitan High School in Lakeside, an east San Diego suburb of 54,000 people, where she also participated in an advanced dance class. The incoming junior recently celebrated a birthday with about two dozen friends at a San Diego cabaret bar.
The Associated Press contributed to this report